I was just discussing the role of humates in mushroom cultivation with a friend. This isn't the first time it has been proposed, especially for saprophytes. It turns out, fulvic acid, is also beneficial with wood inhabiting mushrooms consuming lignin and cellulose. There is huge potential using humates to enhance mushroom cultivation.
It was being discussed in another forum that humic acid be used to assist in cultivation of mushrooms. This isn't ideal for a couple reasons. The long chain humates take time to break down, which is most often longer than a cultivation cycle. Secondly, while carbon content in humic acid may be beneficial, it also allows other microbes like trichoderma to outcompete the mycelium we are hoping to isolate and fruit.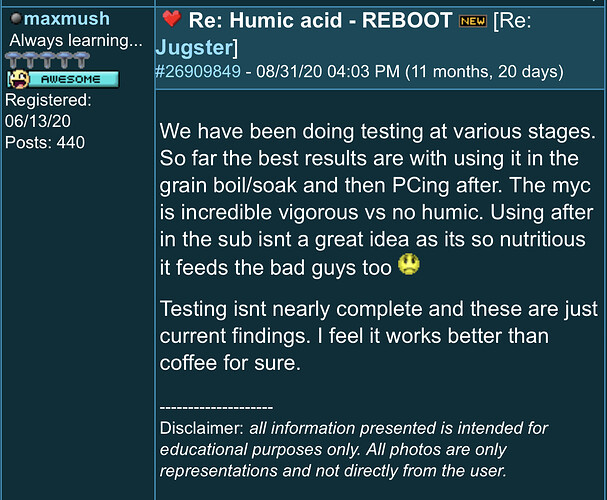 Fulvic acid, found in products like AGT-50 Fulvic Mineral Complex would be a better choice for compost/dung/wood loving mushrooms for several reasons. The amino and organic acids give mycelium vigor and resistance to being out-competed by harmful microbes. The boost in organic matter leads to higher yields. While mushrooms that consume ligning and cellulose require less organic matter, fulvic acid, in particular acts like an electrolyte for better growth and yield. It is also suitable for pasteurization or sterilization temperatures without losing efficacy.
We propose using 2.5ml AGT-50 per 4L in petri dishes and 5ml per 4L of grain or bulk spawn before pasteurization/sterilization. With the wider acceptance of psychedelic mushrooms as therapy, AgTonik is going to be pursuing the mushroom cultivation market segment to enhance growth and yields.