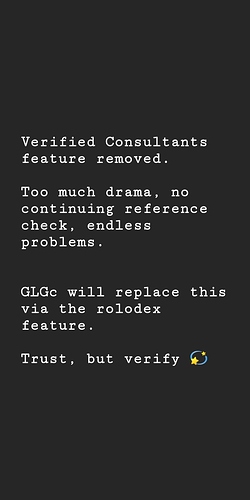 Needs to be much better structured, and regulated, thus will have to cost money. This will be fully integrated with the Guild project as well.
Just to spitball here, I'm thinking a GLGc consultant / advisor would have a certain aptitude test, with specialty options, required to be current annually. They would also need to provide 2 references to even apply, and renewal requires at least 2 more references from jobs you worked
Would also consider an open rating system, which has its own intricacies afa keeping it from devolving into a flame pile of shit.
@sidco once the GLGc is all locked down I'll figure out how to transition the Verified Slangers into a different program as well