I just joined this community (first post!) and just finished reading through the pinned gummy post. Lots of great info and a few recipes, but I thought I could add to the community with some "professional" resources I've found. This is going to be a long post. I hope posting excerpts from books is okay, because that's going to save me hours of typing to just show you the info directly from the horse's mouth.
Personally I find it infuriating how few professional resources exist for the candy market. Almost everyone I've reached out to during my research is either trying to sell a recipe, sell their consultation or simply refuse to share because they fear competition. I've even talked to pastry students who were tight-lipped because their professors told them not to share a word of their teaching publicly. What the hell?
Personally I'm an "all boats rise" kind of fellow. I'm also not doing this commercially - I live in Ontario which limits the entire PACKAGE to 10mg of THC. If you want 100mg of THC, you're buying 10 packs. It's sad and not an environment I'd want to compete in.
It took a while to dig up these resources so I wanted to share and hopefully spur discussion about the more technical aspects of gummy making.
For starters, I found an EXCELLENT book on confectionary that I think is a 'must have' - "Confectionery Science and Technology". This is a candy textbook and reads like one. I suggest you grab the book (it's on libgen if you're curious). Here are some ultra helpful charts from the gummy section:
Pretty nice chart on the differences between different gelling agents:

Formulation %'s for gelatin and pectin based recipes: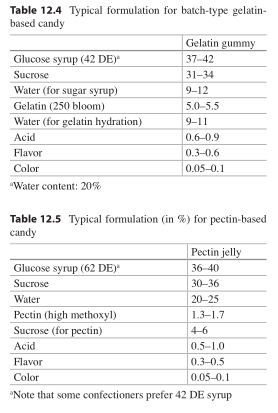 A nice writeup on gelatin and pectin recipes:
I feel there's too much bloat to post the exact write-up but the book mentions that gummies should be dried in less then 50% humidity for 8-24 hours, and that to sugar-coat the dried and non-tacky surface, they are often quickly "steamed" to allow the sugar to adhere. I did this recently (literally just passed a few gummies over a pot of boiling water for a second) and it worked wonders.
Bloom strength conversion chart: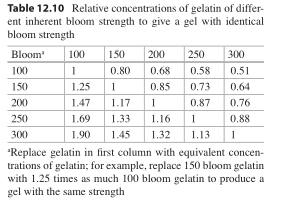 The next book which is also HUGELY helpful, is called "Chocolates and Confections" from the Culinary Institute of America. This is far less textbook-style and more of an advanced recipe and reference book for culinary students.
Relevant Gelatin parts: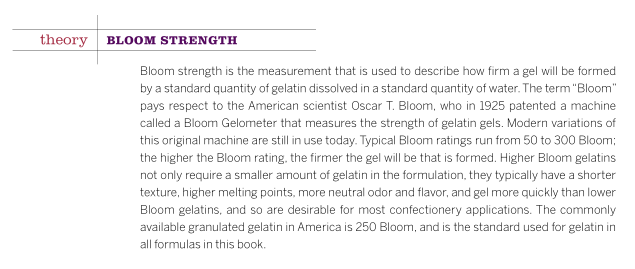 Pectin: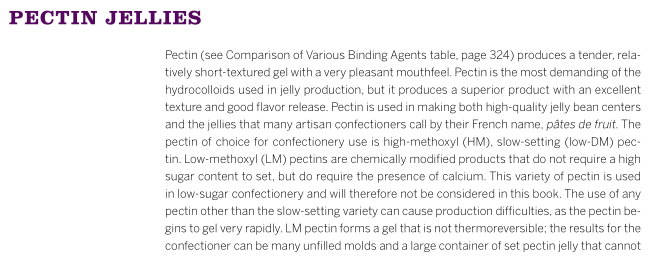 Some general info: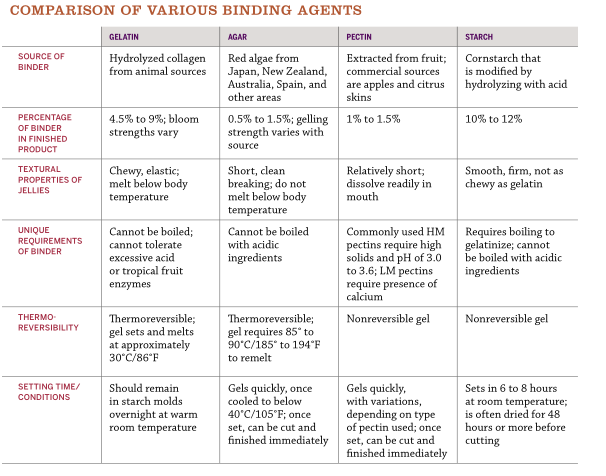 Onto the next book that was hugely helpful - Candy is Magic. This book was written by a successful candy store owner. Sadly they are out of business but the book can still be found floating around.
Here's the gummy recipe they use:
They use silver leaf gelatin, which I can't find here to test out "as is", but if you substitute roughly 1 tablespoon of powdered per 3 sheets, it gets you in the ballpark. So roughly 5 tablespoons. I tried with 6 one time and it was like chewing rubber. So 5 is probably where your happy place will be.
I found yet another professional recipe that I believe was linked to by a Boiron Purees page (famous puree company):
Based on what I've learned so far, I would likely argue that this Boiron recipe would not be very shelf stable. All the water is tied up with the gelatin and not boiled or cooked, so it's effectively all going into the final candy which means lots of available water, which means spoilage. However, it would likely still be a tasty version.
Personally, I've had the best luck to date using the recipe from "Chocolates and Confections". The texture is just right - nice bounce without being hard or too soft.
Something of interest is that the two books with actual recipes share a very similar recipe formulation by % of ingredients to total weight. Not quite perfectly in line with the science textbook %'s (although pretty close in most respects). Side by side they look roughly like this:
A few considerations:
I converted the silver leaf gelatin into 53 grams, which is basically 5.3 tablespoons. This is what I got when I weighed by own powdered gelatin so I'm running with it

Citric acid, flavor, and color do not seem to be normally included in recipe formulation %s, so I didn't include them in the spreadsheet screenshot. Usually citric acid, flavor, and color are very minor additions and shouldn't throw any % off by much.

I included puree as an ingredient in the 'candy is magic' recipe though as I consider it, essentially, a liquid/water addition that gets cooked.

If you look at the Boiron recipe, the water is only added in the bloom (other than the puree, which might as well also be considered a water addition), and never cooked, so it will have a much higher available water content.
Some questions I still have that I could not find adequate answers to that will simply require more experimentation:
I understand that cooking the sugar will affect texture (and available water, and thus a spoilage consideration), but these recipes tend to bring it all the way up to 270F, which is quite a bit higher than most recipes you find online. They do say to cool it down to about 240, which is where most casual online recipes tell you to stop at when cooking (likely because gelatin denatures above this temp). While there are lots of charts around sugar texture at various temps (soft ball, hard crack, etc), none involve the incorporation of gelatin - it would be nice to know how sugar temp and gelatin relate to texture at different stages. Personally, I find the gummy mix rather difficult to work with once it gets up to 270F - it basically seems to want to set and harden as you work with it, so timing and process are super critical (or keep a heated bath to ensure it never gets the chance)

I have yet to dive into pectin but included some details as that's where I want to go next. As much as I like an elastic, chewy gummy texture, I think I actually prefer the softer, creamier, almost melt in your mouth texture that pectin gummies seem to have. Most of the commercial companies I purchase seem to have gone that direction as well.
Hopefully you enjoyed this post and find it useful for refining future recipes