Everyone pile in we're going to banjo-land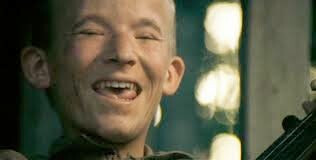 Theres nothing wrong with a banjo.
Edit: let me know when you get here. You can hose out the chitlins , see if your a keeper.
"Sure has a pretty mouth…"
No, you cant, I'll leave it right there lol haha
On a serious note, I hope the weed stays good and less people get hemmed up for it.
We gave you a good skunk, kept the chem, we dont turn our noses up, and are generally good people once you get past the wandering eye and slow drawl.

Wait you're a Virginian!?
I remember people in boot camp like, where you from? Virginia.
Theyd say "what the fuck is in virginia?" All derogatory.
I never got the joke, I just said, I am.
Virginia does have an insane concentration of high level breeders. Hopefully some of them actually get into the REC market.
I went through AIT in Ft Lee, Va… Wasn't much there, and when I we did our jumps our jump zone had a prison going down side. My buddy actually ended up in the prison with his chute all tangled up in the fencing, and barbed wire. Fucking hilarious!
Then there's West Va… Fracking and water taps that catch fire is about all I can think of there… Awesome to see more states coming to their senses
If your ever in the mood to learn more about west virginia watch the wild and wonderful whites of west virginia. Nothing like seeing a mom in the hospital with her new born right after giving birth crushing oxies and snorting them
What about that baby? They give em a bump for the detox little homie is about to endure? Fucking opiates are the worst…ask me how i know.
I know they took the kid away, I'm sure they weaned him off appropriately
I'm from right near ft nonsense


We been eyeing some property in WV. I keep telling the wife I do NOT want to live next to Popcorn Suttons fam.
My ex inlaws moved there, and enjoyed living there for the most part. The main reason that they chose W VA was the cost of living was so low. Not exactly a place I want to go set up shop, but that's only because I don't know anything about the place.
I was just reading some crazy quotes from the Governor (I think) talking about how legalizing weed is going to increase the amount "overdoses, and death directly related to consuming marijuana". The evil devil weed
Yep, amanda chase. She swears overdoses on weed are just fucking out of control right now. We need to nip this one at the bud. Lol
Wheres that bud at? Haha
Edit, shes a senator
It was a man. I saw it on FB, and if I see it again I'll make it a point to remember the name
Governor northam may be mouthing her words…