Why do people flip their carts upside down after capping?
We do it to prevent the distillate from soaking into the wick. This is more likely to occur if the distillate is still warm and more flowable. If it happens the carts appear to be underfilled.
@WKUCONSULTING videos should answer
To remove any air from inside the coil. Flipping upside down after capping allows all air to rise.
Here's instructions by AVD. They used to have flipping instructions on the box. It looks like they removed it though.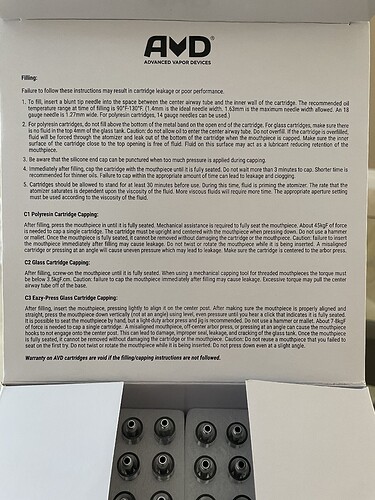 I think this one explains it better @Bagled
Yeah that one is more helpful for carts being upside down.
I do this for the following reasons:
Checking for seal leaks is easier over 24 hours while inverted, since the seal is near the top not the bottom.
Allowing any filling bubbles, blobs, etc. to move around usually removes them, because gravity is awesome.
Verification that each one was touched by a person. We do a first person wipe off, then a second person checks each one to make sure they are good and puts it upside down. Then a third person checks that it looks good before it goes into the package right side up. This is a visual indicator that these things all happened.
I'm sure other people have their reasons. These are mine. I've never been worried about distillate soaking into the wick - but I imagine if I was filling larger carts with less volume that this "filling" might make things look a bit empty. Perhaps this might be someone else's reason.
I didn't find the videos to be insightful… but there was a good chuckle.

I use to flip em now I don't no effect
But I also told everyone that I'd hit it with bic lighter to warm the oil and make sure the coil is primed
I haven't flipped carts in years. Laying them on there side for 20 minutes before packaging will do the trick. On the old carts that didn't have the anti leak gaskets in the bottom it was required to remove the oil from the wick but that's no longer the case unless you're using 5 year old technology.
I've made well over 3k carts, zero have been flipped. At least 10 cart types used as well.
I've never heard of anyone flipping a cart, now priming it is a different story. Also if your wick or coil ain't wet, your custy is getting all that nice steam & carbon from the burning coil. Niooooce.
Ya I've made 2000 and never flipped them. I notice that the oil level goes down even after capped though. Some more than others. Never had any complaints so I guess I'll stick to the same method I'm using.
Most ccell style carts have a .3 holding resi inside the coil to allow for better flow & that's likely where you're seeing it end up.
Best method you've found to prime them? I've been putting them in an oven at 100F for 10 mins

I've got a few methods I keep in mind, one involves a few air manifolds & a small vacuum, the other is of course heat as well, but with heat you tend to have more of a chance to allow the oil to flow to far & that's where a lot of folks see "leaks" or oil coming through the mouth piece. I rather pull with slight vac to stay sanitary & use manifolds to direct to each unit with tubing. Or simply use a vac oven for a few moments to draw all the air from the unit(s).
Why hasnt one of these cart companies made a cart filler that works in a vacuum
They don't think about the consumables/manufacturers. They care more about making the product into the cart than making the cart functional.
I've never had to prime a cart.
If u use 1mm holes carts u better keep it warm and primed
Idk what my deal is then, I have my CF50 turned to 85°C and still sometimes the coil doesn't get saturated and you get a death hit. And that's after sitting for 24 hours