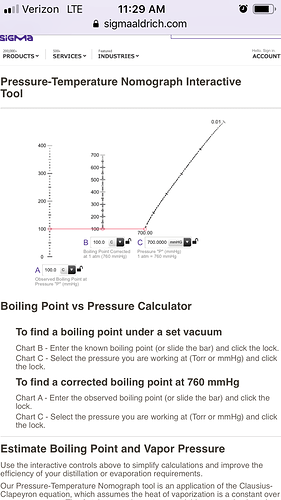 If we take a look at the graph that I posted above, the key feature that's the most important is the one on the right… It defines the vacuum depth relationship to the chart… The way this works is for a given midpoint, based on vacuum, you will be able to find the known boiling point under such vacuum compared to atmosphere (like a saw horse)… Or do the reverse and find out what the boiling point is at atmosphere from a known vacuum and temperature…
If you notice all the lines are more or less vertical except for the vacuum… This is due to the fact that as pressure decreases there is a diminishing return on vacuum depth relationship with boiling point… What I found from actual experience is the below 1×10^ -5 Torr, the boiling point of anything changes by no more than 2° maybe three at the most…
So that is more or less why they only go to a certain point on this graph… But we can see that vacuum depth has a logarithmic relationship with boiling point…
Using this graph, especially with a thin film session such as a wiper, knowing the exact temperature of distillation can guide you greatly.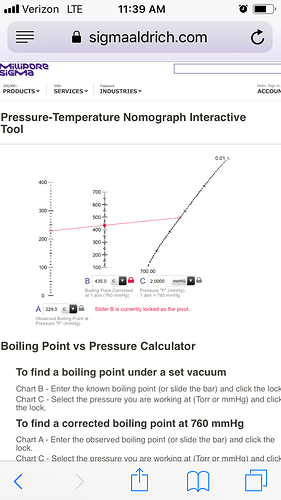 If we take a look at these two graphs I have inputted a few numbers… If we consider the boiling point of THC between 420 and 435 Celsius… Then we would need at least 215°C to actually boil it… This does not mean that less temperatures would not create a steam.
When using temperatures slightly below 215 Celsius at the pressure of two torr… We made it still all the way up to the cannabinoid fraction off the wall of a wiper or within a boiling flask… The benefit of this comes from short path distillation… But can be translated to a wiper… The reason this has its benefits in short path as you were able to use your soge vac or (shitty vacuum depth with great CFM) pump…
On the wiper the benefit is that because the material is extremely hot it's viscosity is extremely low this allows the material to express it's lower boiling points a lot easier because the surface tension is also low… I consider the idea of distillation an expression because it Presses something out or Releases something.
The other benefit of low viscosity is that you can actually push more material down the column rather than relying on gravity… This is especially beneficial when working with a rolled film system… The process is not 100% foolproof and vacuum depths will need to be attenuated to work with the given temperature… As well as the fact that because some columns are extremely long we need to expect that there is a temperature gradient along them and we need to measure accordingly. As long as the material reaches 200°C by the time it reaches the bottom of the column the process should be complete if the vacuum depth is correct…
We use a condenser coil temperature of 20°C. This allows us to check the work because cannabinoids should be a solid at 20° C… So if we are seeing a lot of build up on the coil in a glass system then we know our vacuum depth is too low… There are many fractions besides the terp fraction…
The heads fraction seen in SPD is what really separates it from wiper oil… Many wipers get higher yields then SPD's but I believe that some of this is due to the fact that heads fraction is left in the material… wiper oil typically has a flavor to it especially in not well processed material… This is not always the case of coarse.
Because we are no longer relying on gravity, the speed of distillation can be increased as long as the material on the column never reaches the temp at which cannabinoids will boil. We may get some loss due to cannabinoid steaming… but ive seen speeds as high as 10L/hr on an 8" glass rolled film system. Which is the equivalent to a 6" stainless system.
Of course there are fool proof sops out there to get basic wiper oil with good test scores… but as always, i like to see how far the rabbit hole goes.