I've made observations of UV fluorescence during cannabis processing that I'd like to share.
(Fig 1) as shown from left to right is a 78% total cannabinoid distillate, 98% THCA isolate, and 99.8% CBD isolate. The distillate has a green glow and the isolates have none.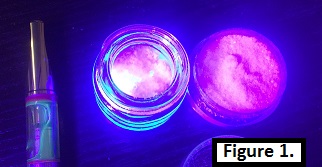 (Fig 2) is an ethanol extraction at -78C with 20 micron inline filtration approximately 190 proof. (Fig 3) is crude hydrocarbon/CO2 extract. (Fig 4) is a soxhlet extraction with ethanol. When dissolved is 99% isopropyl alcohol and boiled, the red fluorescence precipitates and floats on the surface of a now brown fluorescent material or mixture in (Fig 5). If extractions with most polar solvents are done below -80C the red material is captured with cellulose filters in Figure 6. On a cellulose TLC strip using 70% ISO or 66% Ethanol mobile phase, crude extracts of all types separate into a high retention red fluorescent group and low retention green grouping in (Fig 7).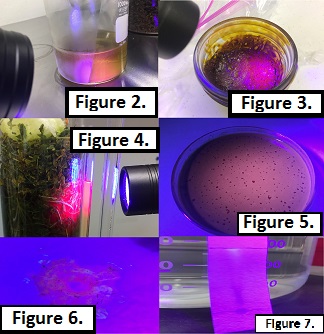 (Fig 8) presents a crude extract made from room temperature 190 proof ethanol extraction as a brown/red glow. The solvent was evaporated and extract redissolved into 99% ISO. The ISO/Extract solution is washed with naptha and the brown/red glow is transferred to the organic layer, and the green glow is left behind in the 99% ISO in (Fig 9). When the two fractions are examined under TLC using 70% ISO mobile phase on cellulose, the organic layer (left strip) has no mobility and trace green glow while the ISO layer (strip right) has almost complete mobility up the strip in (Fig 10). The ISO layer is evaporated in a test tube and when the oil separates, fluorescence is transferred to the top layer and the bulk of the oil sinks (Fig 11) (Fig 12). The lower layer is pipeted into a new test tube and evaporated yielding a bright blue flurecent oil (Fig 13).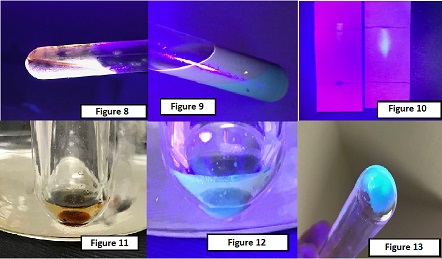 In (Fig 14) the test tube on the left is plant material boiled in distilled water exhibiting blue/green fluorescence and the test tube on the right is a plant material boiled in a non-polar solvent. (Fig 15) is store bought extract of an unknown method exhibiting blue glow. (Fig 16) Blue fluorescent material gathers on the head on wiped film during a repass of 78% distillate. (Fig 17) Repassed oil with blue flurecent material removed and overall fluorescence decreased proves to contain more cannabinoids by weight.