Wtf. How does this happen @sidco @Future
And I thought I was your biggest enemy. Someone really don't like you.
Wtf! That's wild. Super weird…
Dude you are not my enemy lol I never even met you
Forum enemy. Lol. Not in real life. I didn't secretly do that either.
I thought it was @sidco but he corrected it
Sidco wouldn't do something like this
That's super weird though
I wonder if it could have to do with your level
You lost regular recently?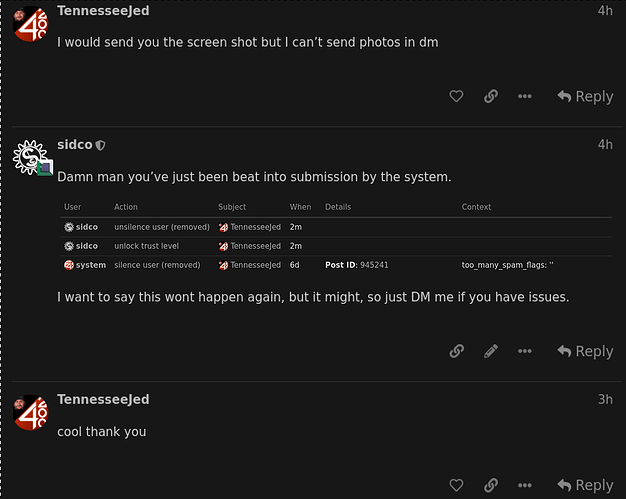 @TennesseeJed
and I figured this out 4 hours ago. After abusing his level3 powers by defacing titles, he then recieved a shit load of flags from when users went flag crazy a few weeks ago. After getting docked another TL by the system for the flags (some of which I agreed with) it flat out silenced him. I didn't even know this was possible.
It was our fault though, the demotion, plus the flags, plus the auto demotion, and then more flags, takes a toll on an account.
I got flagged from level 3 to a new user


Demoted to level 2, then flagged to a new user.
So who's flagging the DMs then???
Just delete me please you guys spineless and hide behind these tools and then make ridiculous excuses for allowing them
just my 0.02€, but it appears you've used up the entire pile of "throw first" stones
It was not a flag on your DMs. You could have just asked me. The system hid a bunch of your posts automatically. They shouldnt be hidden anymore.
Its like if a viagra bot comes on and makes 10 posts and 3 of them get flagged to death, it will hide the other 7 because they are likely also spam.
My DMs were getting flagged in real time as the conversation was happening ask @HeisenbergInd
You can see a post getting flagged? Or can you just see it being hidden?
I assure you no DMs have been flagged of yours. All public comments.
This is just the automated system doin it's thing, which sometimes causes issue.
That's a DM conversation not a forum thread
Muahahahaha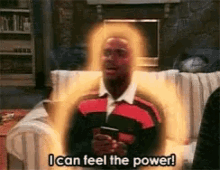 You can flag yourself too