As soon as the next shiny object appears everyone runs to it as fast at they can, overproduces, and tanks the price. There is a lot of benefit to those going after what they think the next big cannabinoid will be in 2-3 years, also there is a lot more risk. The breeders and guys with all star genetics in this industry may just make out like bandits in the long run because without them we aren't going to get plants with high concentrations of new/novel cannabinoids. Next few years are going to be a lot of fun.
I have notes on over 500 people who have called in to Vincent Corp looking to build an extraction lab because they were quoted 50-60% tolling in the last year. And thats just the calls to me. Many of them have no idea where to begin and some even think they can use our press, bottle up the press liquor in tinctures and sell it. I wouldn't even consider selling them a press until they get a plan together. 1 maybe 2 of 10 actually know what they are doing.
This tells me way too many people jumped into the game seeing $$ but I wonder how many will actually make $$ doing it.
The ones that spend all the money on big labs and tons of equipment are going to have a tough time paying all those loans back when the market sees 50-65% profit loss every year. I would hate to make a business plan that was based on low numbers then a year later you're at those low numbers already. Watching isolate gonfrom 7k to 1500 in 1 year is an example.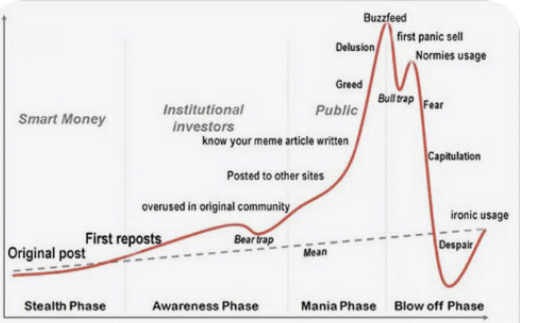 Bear teal, bull trap or despair. Every new market goes through this cycle.
Anyone ever trade bitcoin??
Where are we at on that graph with BTC right now? Because I bought in the first time at $150…
I think we are coming out of the bear trap. Nice buys on bitcoin!! 1000's was my first buy. Held all the way through and been dollar cost averaging after the pullback to $3k. My target is still $100k plus.
I think CBG's demand will not be fully recognized until it is needed for the conversion into a new cannabinoid that we haven't thought about yet.
You guys and your digi money…

You guys and your government printed "fiat" monopoly money…

I prefer honest currency, the kind manipulated by a shady organization with little to no accountability to the citizens of the country it claims to support. Shadow monetary policy is best policy. I <3 The Fed.
I actually own some coins… but not bitcoin.

I use my skills in daily life and trade them for whatever I need. When you can fix cars people will almost trade you there child not to pay that repair bill. The barter system is the way the human race should survive. I have something you want, you have something I want lets trade. If you have nothing no one wants than I am sorry, not sorry for you, gain a skill. Anyone need there car fixed? I take CBG as payment…See what I mean…
What if you had chickens and I got goats…
I need chickens, but you ain't into goat cheese, you want a cow…
Some third guy needs a goat, but only has pigs to offer
The cow guy doesn't want goats or pigs, he wants bread…
If only there was some sort of voucher system we could use to get this deal done simply. With an agreed upon and universal value…
Chainlink… beast mode the past week🤘🏻
just wondering when GLG coin comes out.
Alt coins have been on a tear. I still think that xrp is a great play right now. It bottomed out at $.17 about a month ago and now it's up to $.33. If your into day trading now is the time to make a small fortune. I have been seeing 20-70% gains daily on several different coins.