Some backstory - we've been mixing terpenes with distillate for cartridges by what I've come know as a pretty ghetto method - hot plate stirrer. My process has been to mix 200-300g of distillate with 5-10% by weight terpenes. Process has been to heat disty to 60-70C and stir with mag stir bar at the fastest rotation possible for 1-2 hours.
One issue I've had with this method is that it darkens the oil considerably. Kind of hard to see in the picture below, but the jar on the left had terpenes mixed by this method and the jar on the right has only been heated enough to transfer to jar from round bottom flask after SPD.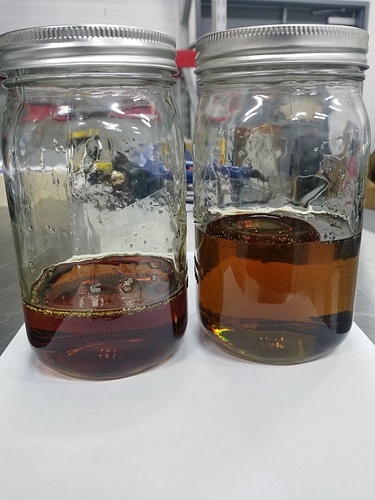 The other issue that is evident by test results, is that this method does not properly homogenize the terpenes with the distillate.
So it seems like the CAT X1000D is the best solution for our budget. A dual axis centrifuge sounds awesome, but is out of our budget.
So a couple questions. If you have used both methods (hotplate stirrer and homogenizer) did switching to the homogenizer result in a better (lighter) color for your distillate?
From what I've read, to use the homogenizer the distillate needs to be heated to ~60-70C. But since the homogenizer mixes things so much faster, the residence time at the heat is considerably less. So does that result in a lighter color in your experience? I recall reading somewhere (can't find thread now) that some people have had the opposite effect - homogenizer resulted in a darker distillate? Not sure why that would be the case.
Other question, if you have a CAT X1000D, what dispersing tool do you have? It seems like the the V type generator (for viscous materials) is correct. T20 V generator is the one I'm leaning towards. Are any others recommended for this application? From what I understand, the G20 tools are mainly just for using with a batch flow reactor? Can't imagine we will ever need to mix such large batches. Are there any other benefits of the G tools over the T type?
Also, the stands and clamp they sell for ~$200, is there any benefits to this over a more standard (and cheaper) stand and clamp?
Thanks!