Pretty sure I am pulling substantial fats on recent fresh frozen which are clogging the 20micron screens at bottom of extraction vessels.
Check out the pic - Baffled as I running VERY Cold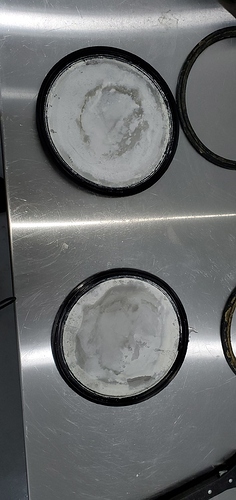 Here's whats WEIRD:
Solvent in Jacketed 60# Tank at -60C (Unistat chilling and chilled at temp for 2 hours before running)
Material Vessels @ -55C (huber 902 chilling)
Using 3-5:1 Solvent to Material Ratio
Soak Time is 5-10mins
Material Socks frozen in Cryo @ -90C prior to running.
On the 3rd and 4th sock of the runs, transferring solvent from extraction to collection slowed way down, realized was getting partial obstruction. Has happened on last 3 runs
Looking at the filters looks like fat/wax.
I am using N2 to push and at certain times during the run I have 40-50PSI in the materail vessel with the solvent.
Could pressure (50psi) and soak time be crashing fats?
Also wondering if recovering too fast where solvent recovered back into jacketed tank is not getting enough residency time to come back to target temp before injecting over the next sock… At most 2/3rd of the tank could be in the system at one time between what is recovering and the next sock soaking.
60# solvent tank