I'm going to start out by saying that MEMBRANE SYSTEMS ARE SOLVENT PIPE BOMBS THAT WILL KILL YOU AND YOUR DOG IF YOU DO SOMETHING WRONG.
In fact, I'm going to expressly tell you that you SHOULD NOT build your own membrane system, in a few common languages, through the magic of google translate.
Do not build your own membrane system.
No construya su propio sistema de membranes.
不要建立自己的膜系統。
Ne construisez pas votre propre système de membrane.
لا تبني نظام الغشاء الخاص بك.
Bygg inte ditt eget membransystem.
独自の膜システムを構築しないでください。
Не создавайте собственную мембранную систему.
---
Now that that's out of the way, these aren't the most complicated devices in the world - they're fundamentally fancy solvent-handling reverse osmosis systems. That doesn't mean you shouldn't be very careful with them, because at 100 psi or 1000 psi, flammable solvent is no joke.
---
But, let's say hypothetically that you wanted to understand how they are built because that would be pretty cool.
I dunno, maybe it would look something like this?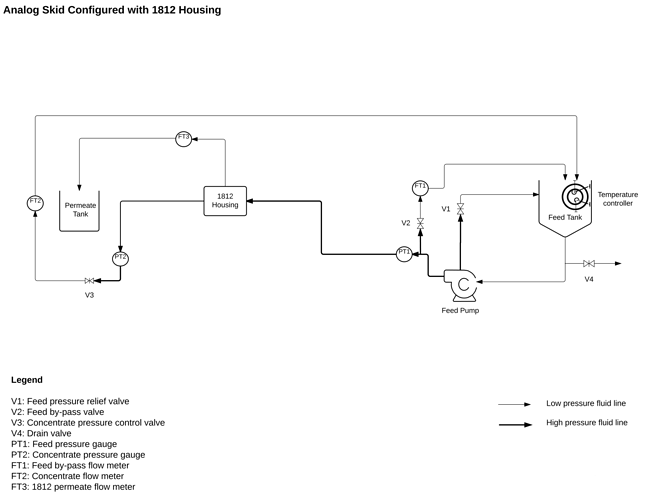 As you might be able to figure out from the title, this is a very bare-bones analog system - that means no automation: monkey press button, monkey turn valve, monkey do all the things - set up with a single 1812 size membrane housing.
It has a pump (with VFD), a tank for your feed, a membrane housing, a tank for your permeate, a pair of pressure sensors, three flow sensors, and four valves, and some piping. This one shows a - very poorly implemented - heating coil in the feed tank, for if you want to add or remove heat from your process fluid.
… That's it for equipment.
Slap on a simple PLC or industrial grade arduino and you've got yourself a goer.
Your pump has to be able to spit out a flow rate that will allow you sufficient crossflow across the membrane.
This looks like it might be an appropriate pump for the job if you just want to push a bunch of liquid into and out of a membrane at the 2.5" (2540 series) or smaller scale at up to 1000 psi.
Your valves, sensors, housing, and piping need to be able to handle the pressure you've chosen to play with.
I'm gonna say this again, and louder, for anyone who might not have been paying attention.
IF YOU'RE GOING TO RUN 1000 PSI THROUGH YOUR SHIT GET 1000 PSI (minimum) RATED EQUIPMENT.
THAT MEANS ALL VALVES.
AND HOSES.
AND SENSORS.
AND FUCKIN EVERYTHING ELSE.
---
Regarding membrane housings:
I like steel. It's one of those materials that doesn't really care what you throw at it from a process perspective - at least within the range of solvents and compounds we tend to discuss in the cannabis corner of the world.
But, steel pressure vessels aren't cheap.
At least one company in the cannabis membrane space has bet the farm on FRP housings. FRP translates to "fibreglass with some trick epoxy compound holding it all together."
Epoxies are wonders of modern chemistry and material science. They are super strong, pretty cheap in the grand scheme of things, and incredibly stable within their defined operational zones.
FRP is definitely cheaper than steel for a similar size and pressure rating.
The problem with epoxies is that they're not perfectly resistant to everything. Some fall apart as soon as you send otherwise innocuous fluids through them. Some are very UV sensitive - don't leave them out in the sun.
My personal - and loudly stated - belief is that we don't know if the epoxies used in pentair housings will stand up to regular pressure cycling with alcohol or alkane loads. I think there's a non-zero chance that over the life cycle of the housings, they could be weakened and eventually fail.
Fail means boom.
Please note I said could. Not will. But, ya know… solvent pipe bomb.
These housings have been shown to work in (probably mostly ethanol) cannabis-duty operations, for multiple years, and there are claims of no visible signs of degradation of those housings.
Of course, it's not just visible degradation you have to worry about.
So, to wrap up this section, I'm just going to say that I would not purchase or install a membrane system that uses FRP housings in my very heavily regulated jurisdiction. I wouldn't sleep well at night with the present level of safety data that is available.
---
But if I were the DIY type, would I buy one and build one in my garage and make sure to not lean on it too hard and only run alcohols through it and change the housing every couple of years just in case? Or run it until my ASME vessel arrived on a boat?
You better believe I would. Hypothetically.
---
Some of you are going to ask what membrane you should use in the skid that I expressly told you not to build. On that one, I can't help you except to say Probably Not Evonik, at least if you're looking at ethanol. That's the only one that I have put my own hands on.
I've heard there are much better ones out there, but any knowledge I have on the topic was provided to me in confidence by parties with a financial interest in this matter and I'm not gonna be the one to disclose it.