Hey all,
Looking for a wholesaler for custom disposables preferably US based. 1ml rechargeable disposable.
BBTANK Brand has many rechargeable disposables to offer, Welcome to check out my post or DM me directly whatsapp +86 199 1447 9664 Email sales27@babytoncig.com
Bump, still looking for a US based supplier for 1ml disposables
Is iKrusher out of your price range? They're US based distro (of a Chinese factory with American oversight).
I think their zenbar is like 3.75 a piece.
I would be open to that depending on the style and dist capacity
Eboattimes have 10years experence in 1ml rechargeable vape ,Welcome contact to check the catalog
whatsapp +86 15766605537
Email: sales10@eboattimes.com
It's attractive and .5 or 1mL
Cilicon, 12 years experience in disposable vape. 18million pcs per month production capacity. you can choose styles from cilicon designed or ODM.
If you need disposables I can help where are u located?
We can send free samples for your testing, Boshang will be your first choice.
Boshang disposable
For sure I was looking at your B28 plus models. I have seen some bb tank 2ml pod disposables edges seemed to bestock8ng out not polished looking. I need r and d done asap. Lmk what your conditions are
Thanks
Best,
Munze
Thanks Munze, I will DM you soon.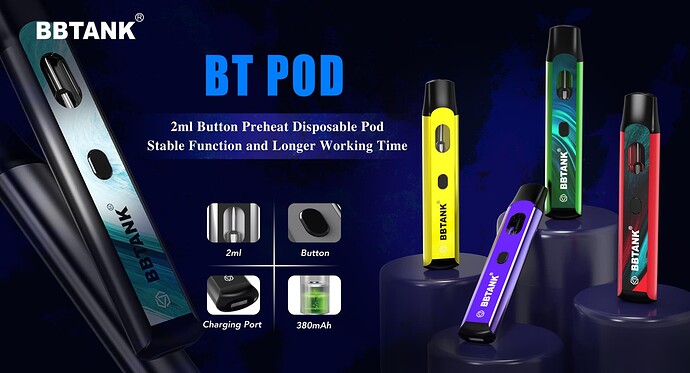 Our upgraded 1ml/2ml Disposable pods
1.Preventing clogging situation, click the button to heating up the oil
2.Press button to vape, more enjoyable vaping experience, and preheat oil as well.
3.Both 1ml and 2ml Large Volume to fill the market gap.
4.Outstanding unique design
5.Sticker could be printed complicated design drawing
6.Two ways to active Pod: Air-switch&Press button, fulfill different inhale needs.
7.Fully customizing designs fulfill your needs of ploshed lookings
Is this version with the button only operable with button? I have the regular version clogged up after one-night on its flatter side only after standing it up for some time was it possible to unclog it. The customizable ones seem attractive do they have a 2ml option that doesn't clog?
Thanks
Best,
Munze
For this BT POD, 1ml/2ml version
we have Two ways to active Pod: Air-switch&Press button, fulfill different inhale needs. A higher voltage and vaping temperature and customizing bigger hole sizes will greatly solve the cloggings you mentioned.
Also it depends on the viscosity percentage of your oils. This is why we would suggest a test run order. Not a single one products with original hole sizes will be suitable for all kinds of viscosity oils
And for those pods using the sticker design, they can all be customized, such as oil window shape, led light's color and shape.
The lit pod and the BT pod seem interesting but do the lit pods have a 2ml option? Partner already got some (10) of the non button BT pods. What do you use to communicate?
We have whatsapp to send detials +86 199 1447 9664, and I had replied your messages on Alibaba. Pls check out.
Lit pod we only have 1 Gram options. But other pods can also be customized as LItpod.
This is severals we made for your reference.