Recently got some very disappointing lab results that I don't know what to make of.
2 months ago I distilled some cryo (-80) ethanol extracted trim and got these results upon testing (75% d9 thc, 81% total cannabinoids):

The color was not great and got progressively worse. Eventually ending up a dark red with lots of streaks (side question - anyone know what the streaking is caused by?) This oil was stored improperly - in the fridge without vac seal or inert atmosphere.
About a month later (one month ago) I did a test 2nd pass on this material and got a nice yellow product with these test results (81% d9 THC, 92% total cannabinoids):
Anyone know where the CBDa came from? Don't understand that. Shouldn't any CBDa be decarbed under SPD conditions? And where did the THCv come from? The 1st pass material was 0.07%. And the CBC? 0% in 1st pass, 2.64% in 2nd? Conversion?
Pretty happy with how that went. Well a couple weeks ago, I distilled the remainder of the orginail 1st pass material and got some very nicely colored oil - pale yellow. Here it is: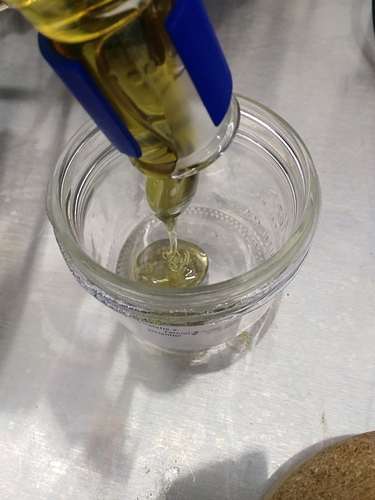 To this 2nd pass distillate I added 2.5% by weight terpenes and 2.5% by weight tec-temper from Abstrax.
Well, the testing results were disappointing to say the least and make no sense to me. Here they are:

Is this possible? I don't see how aside from an error on the labs end. How can you go from 74% THC on 1st pass to 68% on 2nd pass? Both 2nd pass distillates were collected within a narrow vapor temp range ~164C and 100 or sub 100 microns. Even accounting for the reduced potency from adding 5% by weight terps, this doesn't add up to me.
Has anyone experienced anything like this? The ratio of the minor cannabinoids is also confusing as they seem inconsistent b/w the different tests. Could the added terps or the terps in tec temper be throwing something off? This last test, the low one, came back at 2% terps which is reasonable given that some probably boiled off and that the lab doesn't test for the terps in tec temper (at least they're not included in report). Also very unlikely I added more terps than I wanted (probably added less).
I don't know what to do. My plan is to next send the lab 1 sample of distillate from new batch and a sample of the same distillate mixed with terps + tec temper to see what that looks like.