Mid way thru collecting main body on a distillation of crude that was extracted with -80C ethanol, I noticed a fogginess on the walls of my collection flask.
Vapor temp - 166-169C
Mantle temp - 200C
Vac depth - 210 micron
Using a 3 way cow with heads in another bulb attached to system. Wondering what the fogginess is caused by and why it's only appearing on the walls of the flask which I'm currently collecting in. Other 2 are clear. Hitting the outside with heat gun clears the fog, but only temporarily it seems. Can't imagine this is a good thing and I'm sure it's gonna have negative effects on the odor at least. Any one have any experience with this? Thoughts? Remedies? Etc.? Thank you!
Fog: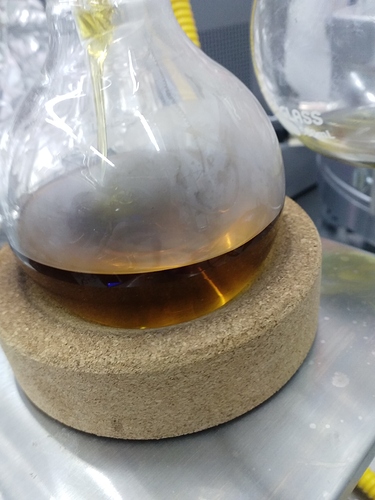 Other side that has been hit with heat gun for a few seconds: