I really like the Allflex, but I need something that can fill .2 and .3 ml as I am moving to pods. Anyone know of something similar that fills smaller doses?

I'd hate to be a pick me marmoset but I'm taking prevotes. heating is 3 weeks out, reservoirs can be sent immediately. Heated hoses too, but at a higher cost and they will be ghetto, until my heaters come in
I think there's a big need for accurate dosage by the 0.1 ml. If you can make even an allflex gun shoot .4 .5 .6 or .7 I'd gladly pay for it!
Just went through your topic, its a great idea.
They have a version that does .5
So does everyone. Drop 400 on a 50 shot or any allflex gun. But being able to do .4 .5 or .6 is what I'm after.
Just curious as to what you would need .4 or .6 for.
.6 I get if your hooking up your peeps.
maybe for some specific pods?
The ability to fill by 0.1ml increments is ideal. I strictly use Jupiter carts. But 0.5ml or 0.5g makes them look "half full". The carts are at their designated capacity but look lesser when filled properly. Customers don't understand that. I've hand filled a hundred or so at 0.6ml and they look better and don't leak.
That's real because the wick absorbs oil. You can set whatever dosage you want with our machine if your willing to spend a little more
What is a little more? Most of us just want metered syringes. They are just as easy as the machine.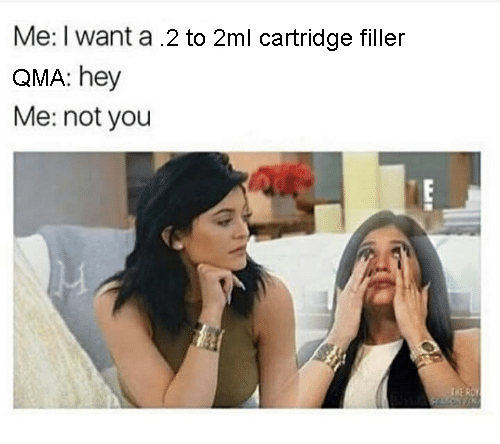 So then what would you want .4 for? To skimp people?
I doubt there's many people that need .4
2x .4 fill a .8ml pod on either side
.3ml disposables may require .4ml
Maybe all this waste is evil, but customers demand tiny packaged products for tiny budgets. Maybe it is time to develop reusable components like the vape world uses.
we do the same, .6ml on all carts.
Would rather make the customer happy and not deal with the whole "bubble" problem that patients always complain about. Because of this we are having new packaging made that says .6ml and 1.2ml .
Do you have any ideas? How would you want the reusable components work?
Customers will be willing to pay more per pcs for a quality mod/coil/tank kit, as long as it is made with cannabis in mind.
High viscosity
ability to burn till empty without foul taste, Tanks above the heating element so they can be burned to the last drop.
Ptfe seals instead of silicone.
massive intake with ability to vaporize high wattage.
Ability to place easy maintenance bubbler on as an accessory
airflow control
material intake control
ability to break down for cleaning
replaceable coils.
reinforced tanks that hold more than 1ml.
You already got it right if you are using chemical resistant stainless parts.
It would be cool if someone offered a 1ml disposable glass syringe with ptfe plunger