Hi guys,
I browsed a lot through this nice website and I need a little bit of help here.
I mixed my own cbd oil and my aim was to have 10ml with 30% cbd.
Ingredients:
MCT oil
CBD full spectrum distillate 93% purity
I used:
2.7g cbd destillate crystalized
6.3g MCT
9g total (~10ml oil)
I first melted the 2.7g crystalized destillate at 60-65 celsius and after it had become honey-liquid, I mixed it with 6.3g MCT oil with the help of my magnetic stirrer for about 10 minutes.
My questions:
1.) Is my math correct? My thought was that 2.7g/9g= 30%
2.) Does crystalized CBD distillate weigh the same as melted distillate?
3.) The color was light-yellow, so absolutely not amber or dark yellow, which I knew from all other MCT based CBD oils. Shouldn't mine be darker?
On one picture you can see how it looked like after the mixing in the beaker, looks light yellow.
On the second picture you can see the MCT CBD oil 30% which I bought on the left side and mine on the right. The seller from the left one told me that he mixed it with distillate as well. Mine looks almost clear to light yellow. So what did I do wrong?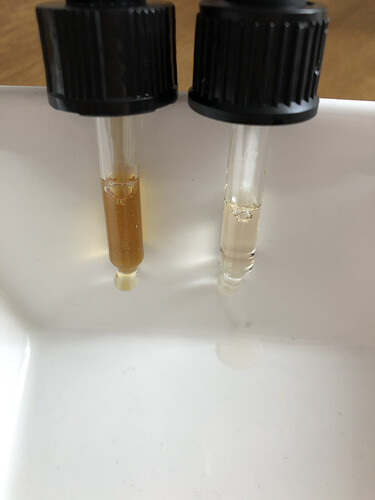 I really need help on this, thank you for your support!