I'll send you $50 if you show me a time lapse of the sauce cart with diamonds in it working until its empty.
Pretty sure those are just bubbles.
Ngl I thought the exact same thing at first, lol
$50 retracted bubbles are childsplay
How about you show it directly, and ask this company to send you $100? More Perfect
Im game put it in my lungs.
Best view the other thread first

What do you mean about the other thread? They sent me samples curious what you mean
https://future4200.com/t/vapor-pen-hardware-in-5g-1g-wickless-low-volt-for-live-resin-rosin-vapor-pen-hardware-supplier/197519/13?u=cheebachiefextracts
All I'm saying is any sample should come as they should when in production. Otherwise I would never expect a client to come purchase. I also didn't post this photo as it wouldn't load with the others. But this was after loading decarbing live rosin. While still warm.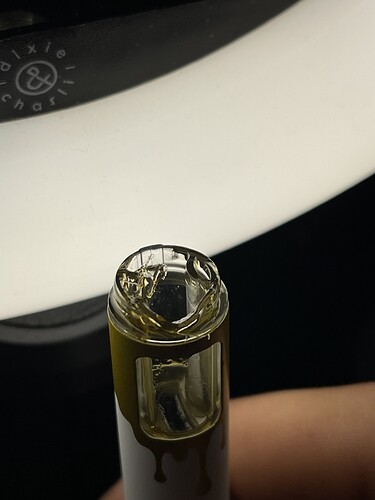 I guess loading with a heated glass syringe got a little close. User error on my fault so I proceeded the second one with a different loading process. Went fine till the whole thing tore apart with no force at all.
Just my 2¢ nothing that is heated should ever be made of plastic. Especially while working with aromatic hydrocarbons. (Yes I said it cause terpenese)
If other materials were used such as borosilicate glass or even glass I wouldn't be opposed but there are other underlying problems.
Dang, had high hopes for the new no center post tech.
Hi friend, as we communicated with you, the plastic tank is hot for the decarbed oil, there isn't any burned taste, right? We want to provide samples to you asap, so we use hand-made samples before. The industry currently uses plastic tanks, we use PCTG materials, which are similar to baby nipples and will not produce harmful substances. Hand-made samples not the final bulk production device.
The point is, we are also glad to provide the glass tank for you if you need it. According to the usual practice, for customized products, we will ship customers samples to confirm before mass production. If the customer does not need it, we will also take photos and videos to confirm with the customer. Thank you very much for kindly feedback on this issue.
I only smoke baby nipples on high