I'd wager that it is NOT a conversion from the results alone, but the proof really lies in the actual chromatogram and how many unknown peaks there are.
I'd ask for the chromatogram and post it up. most conversions will have exo thc peaks and a slew of other peaks.
This is the lab test that came with the liter
And the above one is the one i did myself,looking pretty similar ,ill ask for the chromatogram and post it
Appreciate your help
Agreed, with these results only, looks like not converted to me.
Absence of d8-thc rather indicates this is not converted d9.
But still, a chromatogram should be seen to ensure d8 is properly analyzed, and that there is no exo-thc and no iso-thc.
And are you sure that what you have in the jar corresponds with the COA you were given? Very easy for people to pull shenanigans with swapping COAs, or even worse, just slapping someone else's COA on an untested liter.
no d8 and good levels of cbg… this looks legit…
the second one looks incredible
Could be d10 misidentified as CBC/d8 coeluting with d9
If I was trying to pass conversions as real I'd probably add minors back
We can test it and look for evidence of conversion beyond D8 being present. Based on these COAs it depends on the resolution between D8 and D9 achieved by the lab.
Some labs can't see D9 because there is too much D8. The reverse can also be true.
Doesn't look like a conversion
Post a pic of the liter, visually they're usually funny looking. Translucent gold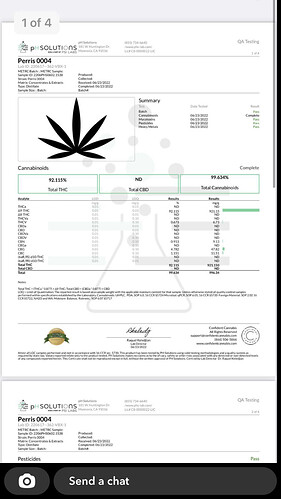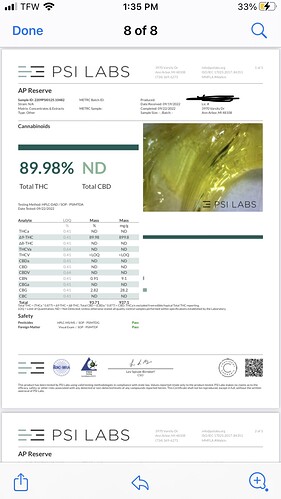 First one is the coa it came with second is the lab test i got myself,they look really close but the one it came with got thcv 0.673 the and cbc 1.151 while mine is nd for both ,the rest is almost same
Check the post above ,it came with a test and I tested myself too,i got both tests posted above
What did you pay for these?