I knew I recognized the photo they used today from somewhere…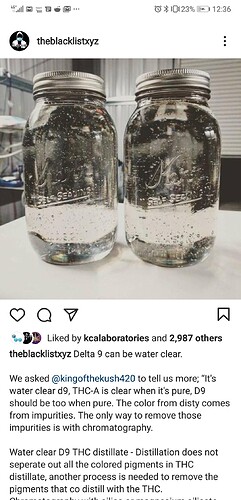 Oh ya, from here!
But wait, that's not D9

I don't get why @Kingofthekush420 is making empirical statements like that, he never does that- seems like they must have spoken to an imposter.
Correct me if I'm wrong but THCa diamonds, decarbed = water clear D9 right?
No chroma needed?
As long as you keep Oxygen away, absolutely.
werent those liters made by columbo… and werent those d8 at one point… now they are d9?
Did it just get a little moist in here?
Its unicorn sweat, or insert bodily fluid of choice.
Lol
That shit looks like seltzer water to me. I can whip up some of that myself. The shit people try to slang is truly amazing.
"Delta 9 can be water clear"
Proceeds to use a pic of d8 because d9 water clear is so rare he doesn't have a pic of it. (Maybe)
Is there an agenda to try and raise the value of worthless d8 by means of confusion. Just like the d8 edibles thread. D8 is super strong in edibles! Fast forward to present day we know it's weaker/different just as I said.
Yes d9 can be water clear but it's misleading to even state that because no one is processing it that far unless the ticket is very high.
In my professional scammer detecting opinion, taking into account the past false claims of d8 being strong in edibles, this may be a deception tactic to try and add value to clear worthless d8 market (that no one wants) in which the scammer has a financial horse in the race.
But wtf do I know I'm just some paranoid idiot on a forum
im in the same boat with you. i think they are trying to deceive the unknowing and trying to pass of nearly worthless d8 as d9.
I was talking with a cbd client of mine yesterday and was told they are selling d8 for $800 a liter on the single liter. of course its hot and it was only 80% d8 but it was $800 a liter. this stuff is losing its value just as fast as cbd and your other derivatives arent far behind. Enjoy cbg, and cbn prices this year as cbn will be this price in 2022!
800/L is a great price. Lots of edibles can be made. That's if d8 edibles are better than d9. And are the isomers harmful if ingested?
I don't think anyone can give you a definitive answer on that. At least not one backed by studies.
This isnt true I have a video of me melting isolate inside a spd and it still turned yellow
Try it and see
Actually this was sent to me years ago before Columbo was out of the industry and he told me it was d9, I never saw his post on the forums
This was sent to a friend of mine who sent it to blacklist who uploaded it before talking to me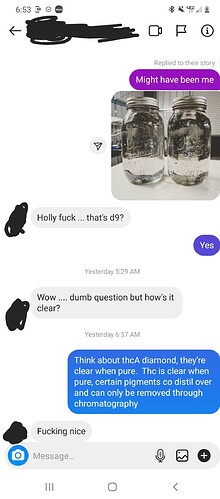 He uploaded it and tagged you but hadn't even talked to you? Wow
They messaged me but I didn't see it till after it was posted, they asked me for a description so I gave them one and they updated the wording under it xD
I was snow boarding all day in Tahoe
Idc that they used it I just wish my friend told me before he sent it to them lol
Haha typing fast and busy at work! Nice to hear from you too and hope your 2021 is going well!