Hello Future4200,
I'm proud to announce the availability of a new type of short path system for the cannabis market. To my knowledge this is the first of its kind glass/steel hybrid system.
Developed by myself and @pdxcanna, Better Flange Short Path Designs (Better Flange SPD) are built to make distilling cannabis oil a consistent and cost-effective endeavor. We've attempted to remove the "art" from distillation so that everyone can focus on the science.
This system is designed to gently distill vape-grade terpenes as well as cannabinoids.
Benefits
Fast – Main body generally complete in 3-4 hours
Easy to use – consistently use the system every day
Durable – will not break or require expensive pieces
No grease contamination – grease contamination is a shame. No grease is used in the interior of the system
Lowest vacuum levels – few chances for leaks exist in kf-25 fittings. Focus on other things other than leaks.
Inexpensive – comparable price to same sized systems without the depreciation or breaking parts.
No isomerization – Little to no CBN formed when operating the short path as directed.
Shown here is a rendering of the system. For anyone interested in more information please reach out here!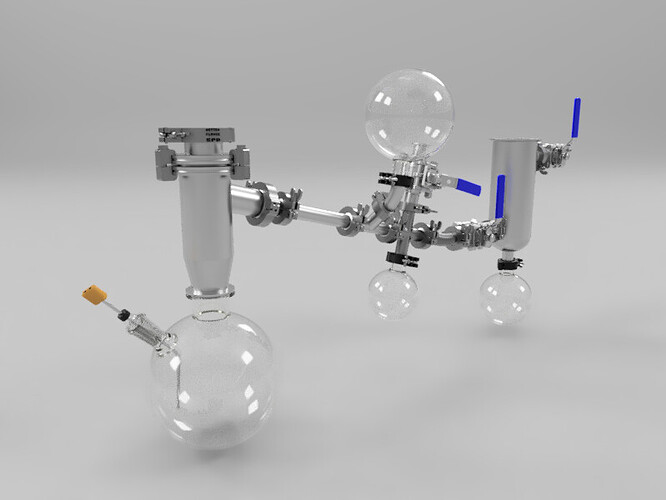 Soon I will add some update photos and images of the system operating in production spaces