Curious where to get the best Tri clamps or sanitary clamps with/and/or the best nuts and bolts?
I like glacier tanks
But working with some China steel Now
And so far i am impressed with the
Quality to price ratio
Mail can be a bitch at the moment thou
So yeah
@Killa12345 inspects his steel before sending it out. I get most of my clamps and nipples from him.
GlacierTanks. Top notch. Ordered from them twice already this week with overnight delivery. I ordered after 4PM mtn time and it showed up the next day. BA in my opinion.
I'm looking for a little more stout. Bvv has those American made with the clover on it, ets had those on the 1300. Those are nice. And I know iron fist uses some thick stuff. I'm not trying to step on toes, but fastenal is my closest option that I could think of, but it was difficult and they didnt have what I was looking for.
I'm mostly concerned with a little the brass and steel bolts.
It's not that big of a deal, the ones from glacier and other sanitary tanks are fine. Just curious
My rigs never exeed 150 psi and my largest clamp is 6. "
So i feel confident with glacier or China
I gave it thought to have my tanks capped with 10-12" caps but yeah then
150 psi gets scary it s a little harder to work with but i try to have as little as possible on the rig yust straight forward
Pushing
No doubt! The stuff I just got from Glacier seems fine and with proper use wont ever be an issue. And it may be the same nuts and bolts I'm about to refer to, which could just boil down to being over torqued by inexperience. But I've been around and used some China, and recently had seen quite a bit of slop in the nuts and bolts. They obviously hadn't been replaced in some time, but regardless they went to junk quick.
*correction the markings on the back of the bolt would say they are different
And think I may have found what I was looking for
Please share if you have found the right nuts
Doesn t happen often but i have Split several and a good nut be nice
These Nutts!
Sorry guys, covid getting to me.

I use glacier tank clamps and nuts and bolts they're rated to 150 psi, but these clamps by N.B.Oiler are the beefiest 6" clamps I've seen I forget how how they are rated but I know they are significantly more than 150 psi but unless you're running pure propane your system should never see PSI that high (NBOiler on the top, glacier tank on the bottom)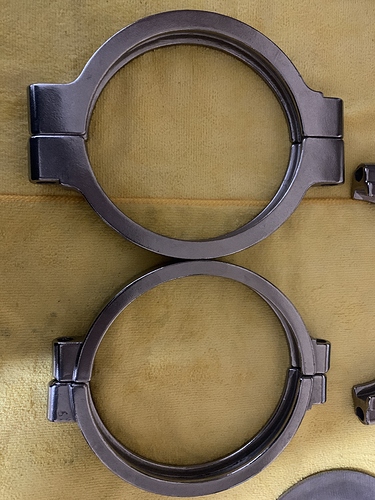 Work off art indeed
I wonder if they are higher pressure resistant that way

That clamp must be a blast to put on lol probably weighs alot comparatively
I also get all my nipple clamps from him, i like the ones with ropes on em that u can tug.
Oh wait were talking about triclamps… nvm
I was like huh? Lol
I read that twice and then your edit popped up. Lolol
Sick



LJ star "SSH" high pressure clamps are far and away superior to the cheap stuff from Glacier Tanks. 4" rated to 769psi, and the 6" to 650psi @ 300°F. https://www.ljstar.com/wp-content/uploads/2019/11/sanitary-clamp-fittings-1.pdf
These are the ones Iron Fist has used for years and I think Bizzy bee has used them for some time too. They're what you want!
These SSH clamps use a bigger diameter bolt with a beefier nut than the 3/8" bolts that the Alfa-Laval tri-clover spec calls for. Their nuts take a 3/4" socket or wrench, as opposed to the typical 5/8" socket or wrench usually needed. Deeper threads means more engagement, parts typically last much longer, blah blah. Hardware incompatible with all your other clamps; older SSH had metric threads, newer ones I think are 1/2" 13tpi. The clamps are beefier and much less subject to the ears bending inwards as tends to happen with cheaper clamps when over tightened.
6" SSH clamps from LJ star on an Iron Fist EX20, target filters from NB Oler.
That beefcake beauty on top looks like an LJ Star SSH clamp to me! The thicccckness of the thing… Notice those proper deep notches to retain the head of the bolt. It's way, way harder to round bolts with these clamps. Or maybe it's that you have to buy the bolts from the clamp company, so they always fit together nicely.
Systems shouldn't see pressure that high but what if many things go wrong? I like to pressure test to the worst case scenario, when the PRV's open.
https://www.mcmaster.com/ is my go to resource. They typically ship same day with arrival of your goods next day. They're amazing for when you're at a consult or build out and the facility doesn't have exactly what is needed
Exactly what I am looking for!