I did not see this coming- Ann Arbor, MI decriminalizes fungi and plant-derived psychedelic drugs.
There starting to do that here too, soon to be the iboga retreat destination.
A step in the right direction. So many more to go.
Just wait until they figure out how to tax psychedelics…
So, that means some deemers, too?
"Plant compounds"
Pretty sure that fits.
Oh, man. Ann Arbor is about to get really heady
I would think MDA could be but not sure about MDMA.
Well mdma was used by psychiatrists to treat patients in the 60-70s iirc.
From my understanding, MDA is synthesized from safrole oil, which I think would not work. Unless there's an MDA plant out there…

Edit: MDMA I believe is synthesized from MDA, which is why when darknet chemists get lazy there's a mixture of both, poor synthesis. This is all speculation btw, just stuff I've heard from wooks at festys.
It specifically doesn't state that extraction is legal and @ExTek90 is correct mda and mdma are semi synthetic compounds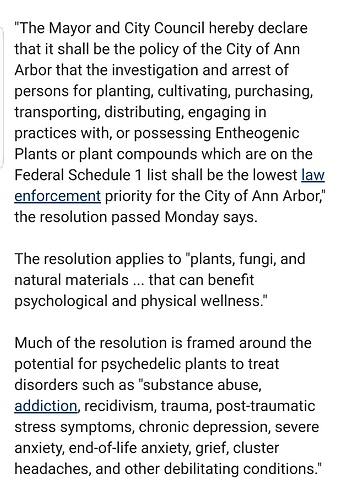 Before Covid. I stayed in Ann Arbor every weekend for the last few years. One of my best friends does concert lighting at venues all over and we would run the light show at a couple clubs there. Best little dance club anywhere. It's a great little city. One of the best little cities in Michigan and America
I can't wait to be part of the developing psychedelic scene
One might be able to argue that "engaging in practices with" could be construed as including extraction. I'm definitely not a lawyer and am not giving legal advise though, lol.
Newish to the area, what are some good places to go out in Ann arbor. Pre covid, post covid
Whoever is writing that legislation should be forced to eat 500 ug of L beforehand.
Pretty sure it means ingesting/consuming it lol Denver,Co has a very similar decriminalization for mushies
Give em some sunshine barrels and then see what they write
Amazing little town Best prime rib in the state. Is at Webers inn. I'm not sure their restaurant is open right now,
Zingermans is known worldwide and it reflects in their prices lol
Bells cafe is a national treasure. They have the basic American dishes. But then they have a korean menu that is out of this world I'm personally I'm personally friend with the owner
The skatepark is sweet. And Tonyhawk was at the opening.
I heard ma bells for the Chicken and waffles. But I haven't been there myself.
All of the parks are great. And the grocery complex called sparrows is awesome.
MDA and both MDMA are generally semi-synthetic and derived from plant essential oils such as safrole, piperonal, and derivatives such as MDP2P and PMK-Glycidate, so I highly doubt they would be exempt. MDMA can be made via MDA but likely the vast majority is made directly through a non MDA intermediate.