Calling all extraction Jedi!!!
This is my first post, so forgive my ignorance. My experience has been primarily in cultivation and the only extracting I've done is through glass tubes and purged in a vacuum oven.
I am building my first small batch closed loop hydrocarbon extraction system and I am much in need of advice, guidance, and/or mentorship. My intent is to produce derivative/concentrate/extract that is as close to the mythical full spectrum extract (HCFSE & HTFSE) as possible. Extractioneering has and is setting the bar, INMHO.
I am considering using either a butane/propane blend or butane/iso/propane tri-blend as the solvent and experimenting with different ways to saturate the flower with CO2 prior to extraction in order to improve the terpene, cannabinoid, and anything else that contributes to the entourage effect, extraction.
I've got a cart full at Best Value Vacs ready to check out and my build currently looks something like this: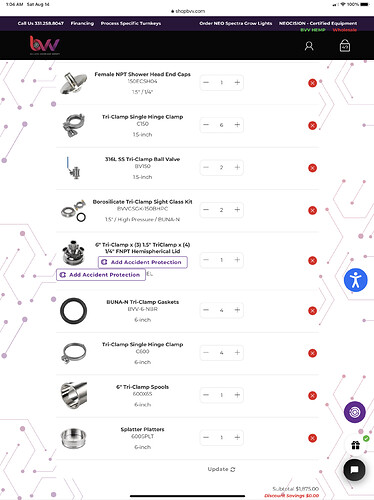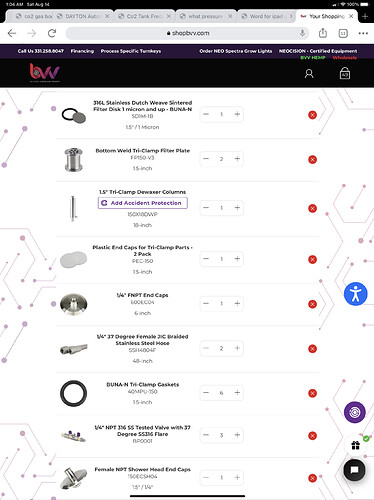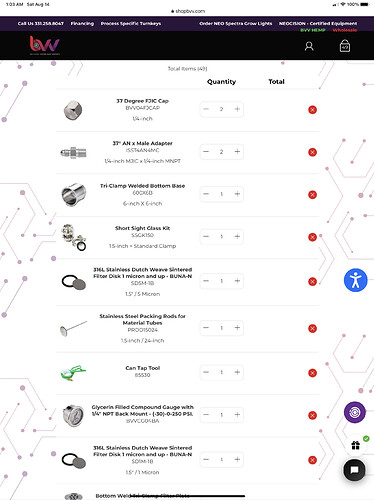 That doesn't include anything to saturate the flower with CO2 prior to extraction. I'm hoping for some insight and direction from the forum's extraction Jedi. My plan is to install ball valves on both sides of the 1.5" dewaxing column and a 1/4 ball valve on the outside for CO2 saturation. I am curious on the Jedi thoughts on whether I should saturate under low pressure, high pressure, or maybe try something using liquid.
My current plan, and forgive my ignorance if something doesn't make any sense, is the following in order from top to bottom:
6" splatter, 6" spool, 6" end cap, 1.5" short sight glass, 1st bottom weld tri-clamp filter plate with 1 micron SS sintered screen, 2nd filter plate with 5 micron SS sintered screen, ball clamp, dewaxer column, ball clamp, end cap w/ 1.4" FNPT, 1/4" ball valve to SS hose to 6" tri-clamp welded bottom base. I'm going to use two of the 1.5" openings on the end cap for sight glass.
Prior to extraction, I plan to pull from a 20lb canister and distill it into the 6" solvent base. I don't currently have an inline desicant setup for drying, how concerning is that? Again, I'm a novice, so please bear with me.
All thoughts, comments, and ideas are welcome. My need for as close to full spectrum as possible is medical, specifically in regards to individuals that experience deleterious side effects from the combustion of flower, but also experience quality of life-changing relief from the entourage effect.
Any extraction Jedi that are interested in mentoring me, please, please send me a message and pay it forward. I will do the same in the future as well…There is a ton of information on the web these days, much of it junk I know, so help a currently ignorant brother out

Thanks in advance.