Item Model/Manufacturer: 6 Twister T4 cannabis trimmers with leaf sucker
Description: 6 Twister T4 trimmers - recently refurbished by myself with legit Keirton (Twister manufacturer) parts.
Price/MSRP: $ 3000 ea, deals can be worked for multiples.
Current location of item: Denver
Estimated lead time: Able to be shipped within 1-2 business days at expense of buyer
Fulfillment: Direct from seller
User support / Warranty: None but am happy to verify in person that everything is in complete working order for said buyer and give a spare blade drive belt as well.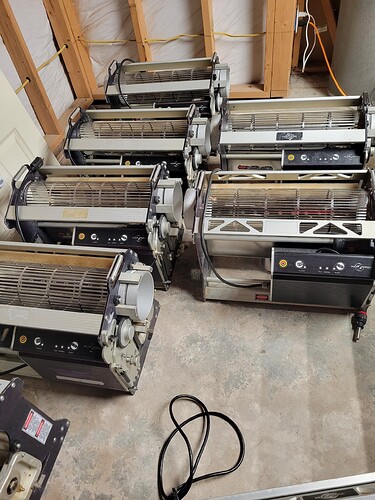 Recently refurbished (as in the last 2 weeks) lot of 6 Twister T4s, have more but trying to keep the extra 4. Single speed models all working great - each motor has been opened up and decent wiring and grounding has been verified. Wook related damage is to an absolute minimum with these except your odd scratch on the frame here and there (which honestly will probably be repainted over in the black areas because perfectionist). All leaf suckers are included with every unit - only missing part from these are the mesh bags which attach to the leaf suckers otherwise these are 100% complete units that have been ripped apart tested and verified working by an idiot who went to electronics school and then decided to go into weed because intelligence (COUGH COUGH). No pictures of the leaf suckers at the moment but can be updated with pics later on today as they are in a friend's garage. All bearings on tumbler have been ripped apart and relubed, nylon brushes have been taken apart, de-hashed/regreased the sockets. Anything I could have done to beef these units up prior to listing them I have. Feel free to ask any questions, hope y'all are having a great day!