Size: 38.516.083.0mm(LWH)
Volume: 5ml
Oil hole size: 4*2.0mm
Resistance: 1.2ohm,
ceramic coil
Material: Aluminum
Filling way: Top filling
With button: pre-heat function
Recharge: Type C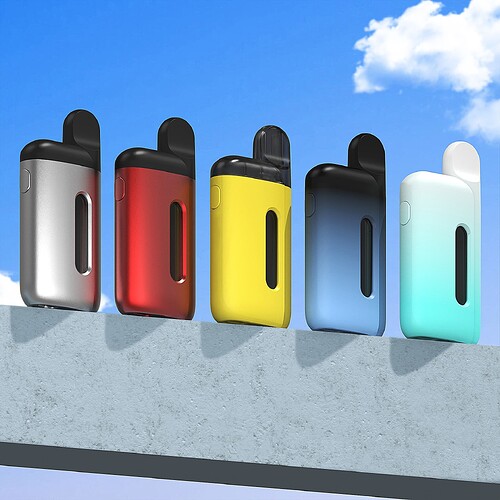 Support customization (different colors, oil windows, mouthpiece colors)
Also, we support customization packaging and Mylar bag.
One-stop service!
Then you guys should care about the consumers' complaints before you selling to others,instead of posting a bunch of spam ads.
These 5gram disposables have many issues,especially clogging issues.
"At halfway through bar, the clogging went away by holding it Infront of a heat source for a while. Granted, this may be my fault by blowing INTO it to try to clear it because it got noticably thicker after that but you can't blame me, I was high off the elf bar. At the end of the day, yes, I am going to get another one and not blow into it again. Will post the next one I grab. It smokes like a real delta 8 disposable and hits like the other ones it was next to in the smoke shop. Lost the box but there was a website with lab reports, it's the name of the bar dot com but those can be faked so if you all are bored enough to want to look deeper at the lab reports, the one I have is the Noldor blend
"
check this:
https://www.reddit.com/r/fakecartridges/comments/132db8e/almost_finished_the_elf_thc_bar_some_complaints/
"I currently use one from Delta King and one from Trinity Hemp that use exactly the same device and I mostly enjoy them. They start getting clogged some about half way through, but can usually be cleared easy. Worst case scenario, you get a big ol' glob of warm goo down your throat(giggity), but that's basically a bonus edible. "
check this:
https://www.reddit.com/r/delta8/comments/12nrj4u/comment/jgsedl8/
Read more:
regular heating coil doesn't support 5g distillates well
5g indeed too much, I think it's better for some thin and cheaper oil
Then enjoying the collapsed lung and cancer and expecting a collapsed lung anytime now.
Find a reliable oil retailer, make sure the oil is safe