Any and all feedback appreciated
Do you have to test in order to tell the difference between red and purple? The two pics below are the same cut of red hot cookies, grown under hps and led lighting, respectively.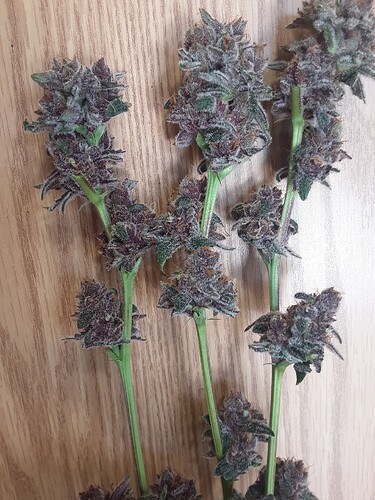 Honestly, I am not very involved in the strain data project. It is a tool my employer has been working on to benefit consumers and budtenders to discuss strains that will give the user similar effects to a strain or product they have enjoyed before.
But we can absolutely run terpene and cannabinoid analysis on your two samples. They might even fall into different colored categories !
Do they smoke differently? taste, smell, high?
Those are old pics, but they were fairly similar. Thanks for the information.
Both are from anthocyanin, higher concentration can change red into purple for sure. I would posit that the LEDs have higher UV than the HPS, and that would account for the difference in color. Anthocyanin is produced like a natural sunblock for plants. There are many different anthocyanins in plants and they can be blue, red, or purple. This paper lists cyanidin-3-rutinoside as the primary anthocyanin in cannabis (at least in this Italian study):
But looking at the SDP website now, I see their colors refer to a specific terpene profile, and not the actual bud color. Kind of misleading and confusing…
I completely missed that @Autumn_Ridge_Hemp was relating the color categories of the SDP to the physical color of their flower.
That is some solid feedback that I will pass along. Thanks