Following Future's pesticide remediation test on a kilo of oil and ran into a problem I couldn't explain, was hoping someone might have some insight on what I did wrong.
Had to make a couple changes to the process (no reactor onsite), but nothing that should drastically effect the process.
Starting oil was 1kg T-Free Distillate; 88.44%CBD 90% total cannabanoid.
3 buckets were prepared, 20l of 3% saline solution (600g NaCl per 20l)
Here's where I ran into the issue that I believe may have tripped me up. I got the first to to ph6 and ph4 without any issues.
PH8 is as high as I could go with the baking soda, and I stopped adding baking soda because I felt I was over saturating the solution and it wasn't making a difference. Total baking soda added was less than 1/2 cup.
Now to the problem, first wash was in the PH8 solution, and went off just fine, separated nicely, however was leaving a film of baking soda on the glassware from the aqueous layer, but otherwise nothing looked amiss.
Washed everything up nicely and started the PH4 wash. Poured the oil in mixed is with the mixer for 5ish minutes, and let it settle for around 10min. When I cam back it appears (almost all) the CBD has crashed out of the oil and is sitting in a layer above the aqueous and below the heptane. Now I have 3 pretty distinct layers (Aqueous, CBD Isolate, Heptane Solution).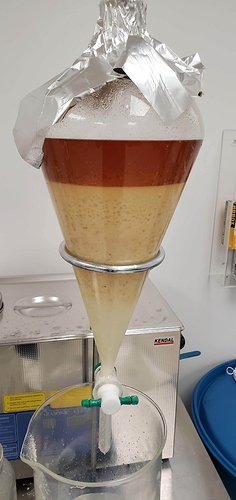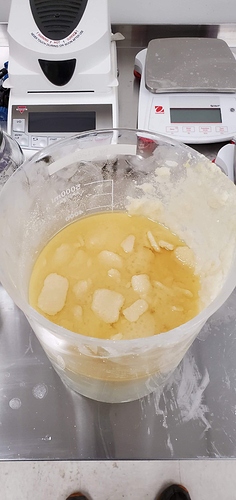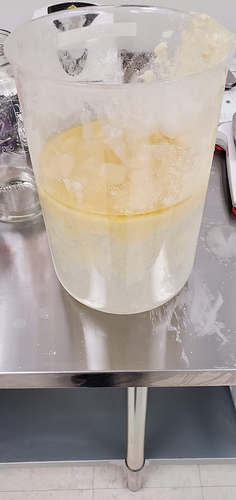 Only thing I can think of that I may have done wrong is too much baking soda giving the CBD nucleation points and causing the CBD to precipitate out. But I'm surprised to see that much crash out in such a short time at room temp.
Anyone have any ideas?