Oleamide is an endocannabinoid that naturally occurs in your brain and is responsible for regulating and inducing sleep. After hearing some convincing anecdotes from a colleague I ordered 100g of it for $20. I took 300mg and it knocked me out fairly quickly without any psychoactive intoxication. I took it another night and it didn't seem to do shit, but then the third night I took some, it worked and made me very shleeeepy.
One of the many studies demonstrating it's role in mediating sleep: https://science.sciencemag.org/content/268/5216/1506
An interesting observation was that it seemed to compete with THC in binding to my CB2 receptors. I didn't get super baked when THC ingestion while laying in bed after taking oleamide; I still got somewhat stoned, but the THC high just felt different.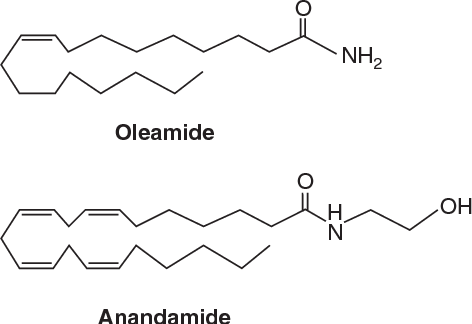 Structural comparison of oleamide and anandamide
Although we mainly focus on phytocannabinoid discussion here, Oleamide has proven utility for the treatment of sleep disorders and costs pennies for a dose.
Has anyone else tried Oleamide as a supplement for insomnia treatment? It has very notable hypnotic effects and is far superior to CBN in my experience.