FOR SALE: Filter Press
Item Model/Manufacturer: M.W. WATERMARK FILTER PRESS MODEL FP1200M32L-34/42-42/52AXX
Description: SEE BELOW
Price/MSRP: $119,999; OBO
Current location of item: Holland, MI
Estimated lead time: 2 weeks
Fulfillment: Drop shipped
User support / Warranty: No Warranty
M.W. WATERMARK FILTER PRESS MODEL FP1200M32L-34/42-42/52AXX
Basis of Design
Application: Hemp/solvent (methanol) separation
Temperature: Between 45°F and 110°F
Installation Location: Indoors
Power Supply: None, compressed air only.
Feed Pressure: Up to 100 psi
Squeeze Pressure: Up to 100 psi
Equipment Description
Plate size: 1200 x 1200 mm plates.
Cake Thickness: 32 mm chambers (pre-squeeze)
Press Capacity: 41.7 cu. ft. expandable to 51.6 cu. ft.
Filtration Area: 884 sq. ft. expandable to 1,092 sq. ft. Options shown may not be included in the quoted price.
Chamber Quantity: 34 expandable to 42
Overall Dimensions: 227″L x 72″W x 81″H (approx.) with 26″ under-plate clearance. "A" dimension = 91″
Empty Weight: 15,830 pounds
Hydraulics: Air-operated hydraulics, automatic closure, enclosed in the leg of the filter press.
Filter Plates: Polypropylene, gasketed (EPDM) mixed-pack, diaphragm squeeze plates; center feed, four-corner discharge. Plates are ported for thorough cake washing.
Filter Cloths: Installed polypropylene mono/multi-filament.
Filter Press Frame: Sidebar design, ASTM A36 carbon steel construction with 304SS side rail caps.
Coating: Blasted to SSPC-SP6. UV-resistant aliphatic acrylic polyurethane. Color: RAL-5017 Traffic Blue
Features Included
Manifold Design: Air Blow/ Even Fill/ Dual Air Blow/ Cake Wash/ Core Blow & Flush – Fully assembled with valves to provide even chamber filling and air blowdown. Includes air regulator.
Manifold Material: 304 Stainless Steel / EPDM, Schedule 10
Coating: Blasted to SSPC-SP6. UV-resistant aliphatic acrylic polyurethane. Color: RAL-5017 Traffic Blue
Expandable Capacity: Allows for future expansion of the filter press plate stack to 52 ft3 without revision to foundation or hydraulics.
Diaphragm Squeeze Manifold: 304SS squeeze manifold with individual hoses for connection to diaphragm filter plates.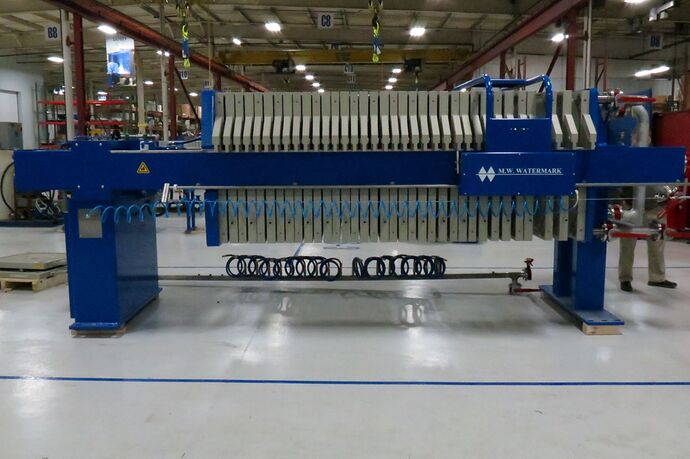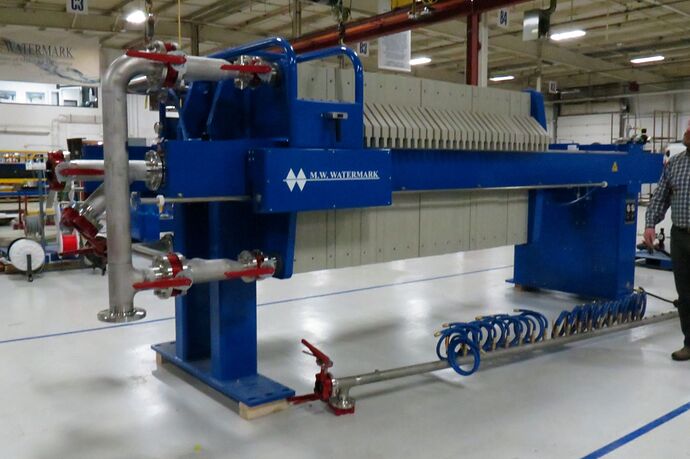 L00116_1119_CBD-Oil-Extraction-Brochure (1).pdf
(1.3 MB)
Drawings for 1933 info.pdf
(2.9 MB)
Q061319-10R0AA - unpriced.pdf
(519.5 KB)