title says it all.
would prefer an Atlas 3, but would consider other options.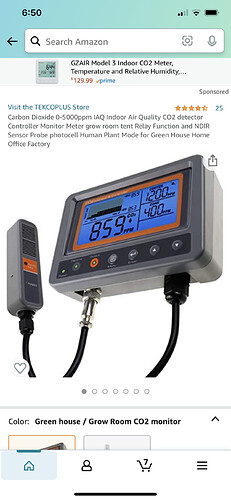 I purchased this one for a small grow and it's working great seems to hold the zone very well. Deff worth a look at.
We're still using these, haven't had any issues so far:
TrolMaster hydro x plus a co2 sensor and module prolly about $350-400 total
I use that one also and works great.
I have had issues with one when I bought one
Look into the trolmaster. You can integrate everything thru there system
I went with the inkbird icc-500t coupled with a 20lb tank and cga320 regulator, pushing into a drip line twist tied onto a scrog net. After comparing reviews and pricing for a small scale room, this was the best *value I could find. It'll run the regulator and an external fan, while giving you digital readouts. There's a port for something else that you might be able to log data from, but I don't know for sure
Auto pilot co2 controllers are cheap and effective
the only issue ive had is the sensor must draw bugs in> it was full of fungus gnats once and I had to blow them out.
Just put black electrical tape over the light, I've never seen one that wasn't covered by the end user
Interesting. We've got 5 or 6 and no issues but maybe we just got lucky. I had worse luck with the autopilots
what happens to autopiliot? it just stops working?