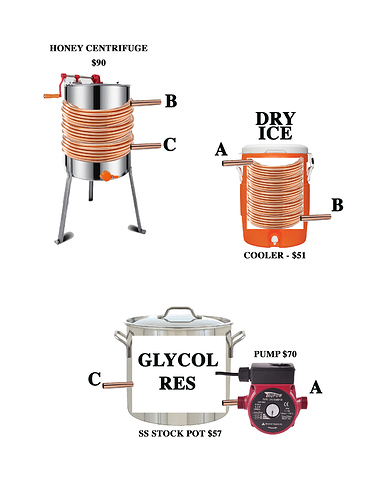 this is what iv planned out that i want to try.
this is the centrifuge I'm thinking of using
Measuring 50cm in diameter and 85cm high
would connect all the pieces with attachable SS hoses
https://www.amazon.com/dp/B01ET6H58U/ref=sspa_dk_detail_3?psc=1&pd_rd_i=B01ET6H58U&pd_rd_w=54a84&pf_rd_p=c83c55b0-5d97-454a-a592-a891098a9709&pd_rd_wg=PrPXs&pf_rd_r=22KX64HSDJV3V1F6121V&pd_rd_r=dd23d76c-784a-41f0-aeb5-186d3300f4f2&spLa=ZW5jcnlwdGVkUXVhbGlmaWVyPUFFRUdXUUM5NU9TNDkmZW5jcnlwdGVkSWQ9QTA3NzY5MzAxNjNKNVAxUDczNDdCJmVuY3J5cHRlZEFkSWQ9QTA0NDMwMDVQUFE0SDVYUjZUQkUmd2lkZ2V0TmFtZT1zcF9kZXRhaWxfdGhlbWF0aWMmYWN0aW9uPWNsaWNrUmVkaXJlY3QmZG9Ob3RMb2dDbGljaz10cnVl
so i can reattach and detach on the go.
Do you guys think the dry ice / acetone slur would cool my centrifuge coils cold enough to do a good cold extraction? I'm thinking of using a 5 gallon cooler.
also i would pre chill ethanol and herb in a deep freezer.
i want to do 1 soak also based on the size of the centrifuge any math heads can work out how much ethanol it can hold and how much herb you think will fit?
let me know if see some thing i could do differently to save or be more efficient