Yo, we are closing up shop on the CBD side of things to focus on the meat and potatoes of our business, the THC side.
Got lots of packaging and equipment for sale. Got the following Boston rounds.
Droppers are not included, but we do have some droppers as well. Non-CR black graduated droppers and some white CR droppers.
Screenshots for pricing reference. If anyone is interested, make me an offer. I'll beat whatever price you can find.
All Boston rounds are 1 oz glass.
Green - 600 ($0.30/ea)
Cobalt Blue - 360 ($0.25/ea)
White gloss - 2880 ($0.50/ea OBO)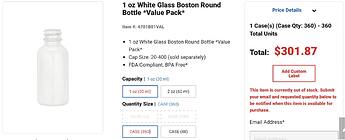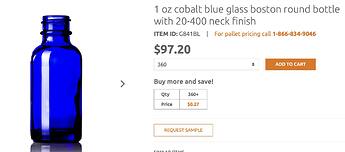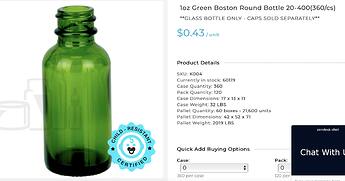 Also got a Maxant honey pump and mixer, ATG peristaltic and pneumatic set up (for tinctures and capsules. can be switched to volumetric cart filler also), Stainless lotion dispenser/packager, Cleveland heat tunnel for shrink bands, and lots of other packaging like plastic gummy jars, 40 dram PET jars w/ lids, roll on bottles+roller balls, etc. etc.
Inquire if you're looking for anything specific.