Happy New Year - New guy here
everything goes well in 2020
is it just me or is anyone else not disappointed we don't have flying cars yet? I just knew by 2020 when I was tyke
My car flies. My kid just tossed one this am and hit the window.
I am disappointed in this though. Can you say BM for the win in IL? Here I was thinking $35 a g is highway robbery!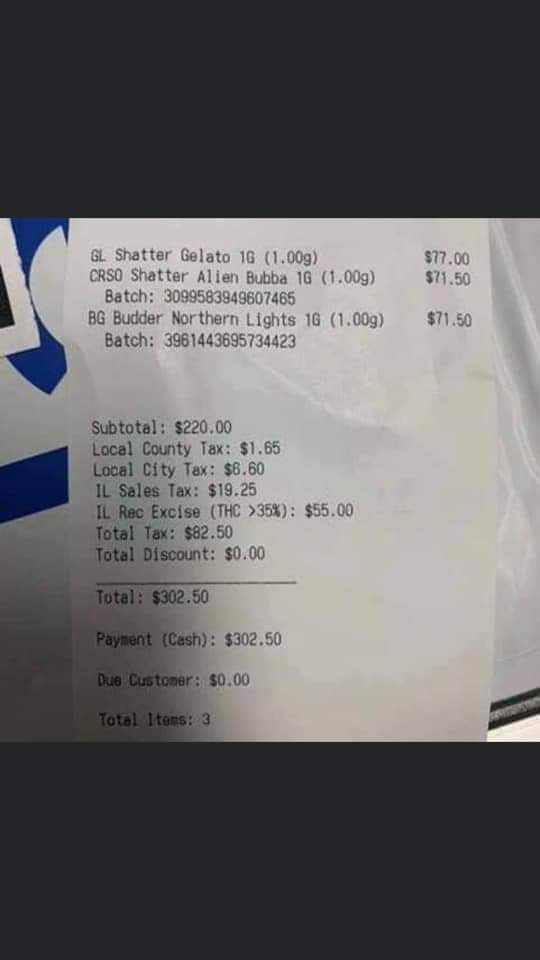 Godddddayuuummm
That's why I'll always do great!
I'll do 30!

This is crazy, and the reason it's about to go federal. They will kill 2 birds with one stone here. Lining their accounts with our tax $ just to get us what we already had. And keeping us all nice and chill for whatever is next in the agenda.
$300 for 3 g's. SMH. Zips are cheaper than that



I dont see how that's going to be sustainable for any length of time.
I honestly couldn't tell you what the market rate is in IL. But damn. Just damn.
Ahhh yeah! lets kick this thing in the ass this year!
That's to be expected when there's 1 retail store per ~400,000 people