Anybody still buying hemp flower?

constantly but you gotta give more to get more G
Yes, but every broker/grower seems to have a bullshit COA these days. Have gotten samples from a few different places tested and every time it's at-least double the THC levels claimed
This does happen but there is no way to test every plant or bud there are variances as you probably know depending on maturity and the location on the plant.
True. But when the total cannabinoids are 5-8% higher along with the total thc being double on all 4-6 samples it's obvious what's going on. It's became such an issue I'm not even selling pre rolls or flower pouches anymore
It's not cool to make up shit but trimmed flower is always higher in both so for compliance sake the farmer or broker is probably sending you the most compliant test
Exactly. Sending it in untrimmed for testing so it is compliant, then selling me the trimmed stuff with the untrimmed test. And then making up every excuse in the book as to why I'm so mistaken and how credible their lab with no pictures of the tested product is.
Pretty frustrating. I get how it can be hard to deal with all these regulations but putting my business at risk is a low blow
Are you talking TTHC compliant or delta 9? I'm sure you can contract a grower to get you TTHC compliant flower that might have 10% CBD if that's what you want to sell. Or there's always CBG. Do your buyers want trimmed flower or do they buy it with no trimming done?
Both. I don't want to turn this into a rant. Just saying I have had poor luck with even very reputable companies selling obviously hot tthc and delta 9 flower (got it tested at 3 different labs).
I think the issue is if it is delta 9 or even only total thc hot, there's always gonna be that one POS that will swear on his granny that it isn't if it means he makes a few bucks.
The lack of regulation can be a double edged sword
On a positive note the CBG flower is great, just got some really nice stuff and considering sticking with that for now. Mellow uplifting and total compliant

Compliant hemp isn't real.
.85 - 1% d9 depending on the lab. for the first instance I was talking about
All the cbg flower I see comes in at less than .3 post harvest coa
In fact i cant remember seeing any CBG dominant hemp go hot although
Get one glass of wine in me and I'm my own favorite comedian…
I love it, I have a thc sensitivity these days so having the ability to smoke a backwood again and actually enjoy it is great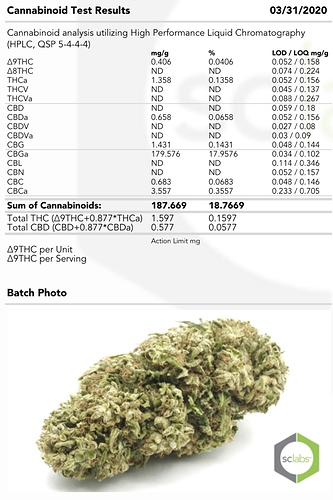 hah yeah not so much unfortunately.
I love cheefing down my high thc bud, but some good cbd or cbg flower for a week here or there is very refreshing.