ASCERA launched the 5 Step Configuration process. go to www.ascera.ca/configure to read more.
In a nutshell:
We tailor the coil and the cotton to fine tune the metering of product.
With this process, we will provide you with a perfect match to your oils viscosity. No leaks or clogs, best taste and great performance. Guaranteed.
We offer 3 stock configurations and most people will find success with these. If needed, we will make a new configuration for your oil, with an MOQ of 5,000 pieces. This SKU becomes your personal configuration for that oil type.
We're a Canadian company located out of BC. USA lads and ladies still welcome to hit us up!
You can fill out this RFQ Form to order your Viscosity Sample Pack and begin the process today!
CNY is coming and if you want to be able to order ASCERA products before March, your time is running out.
I made an infographic explaining the rough timelines. Some of the dates may be a bit off but for all intents and purposes, your last day to pay is roughly December 15-20'th if you want any not-from-stock tanks before March.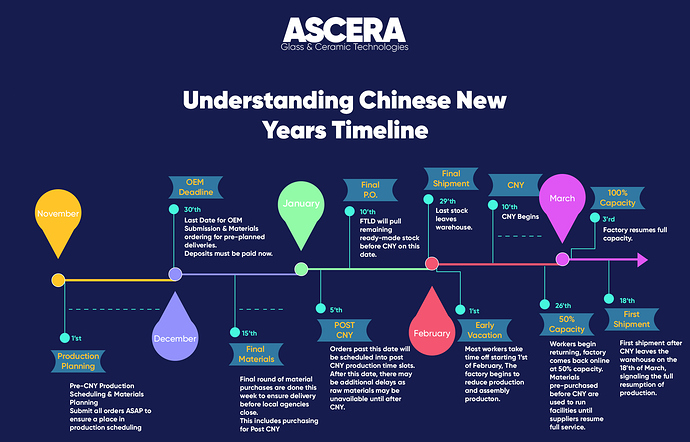 (My other post on this was really an essay, too long, so I wanted to TLDR it and let it die. If mods want to delete something please delete the other post. I'd do it myself but it won't let me.)