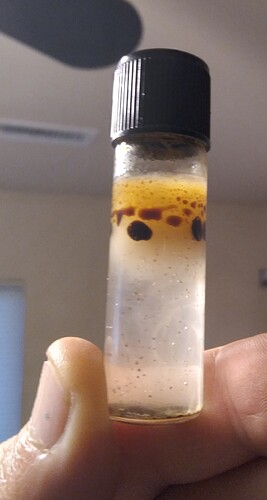 Here we have some hemp crude dissolved in ethanol which has been added dropwise to water.
Notice the cloud of crap in the water and the remaining crude adhered to the side. This got me thinking…
What is that crap in the water? Mmm… waxes? Chlorophyll???
Bear in mind that this was an extract made with warm alcohol from last years hemp crop and not exactly dank hemp at that.
In for a penny, in for a pound, lets do it with all of it…
Fairly concentrated hemp extract was added dropwise to glass dish of water. When it hits it disperses in an interesting fashion. Poof… then it reassembles on the surface. The water becomes cloudy as the process continues. A small amount of crude drops to the bottom. Most floats on top of the surface.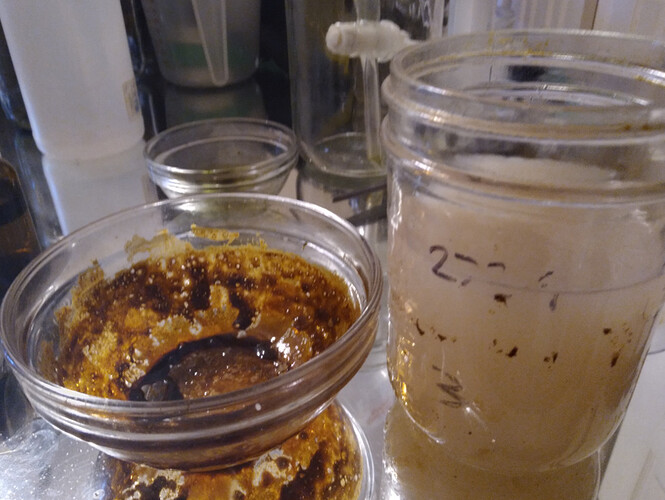 The jar on the right is wastewater. Over the course of the night whatever is in the wastewater mostly stayed in suspension. There was a whitish waxy film on the bottom of the jar.
There are a number of variables here… Concentration of the hemp oil, temperature of the water, surface area, etc. Many things to be played with. Reclaiming the crude seems to be easy, sticks to the glass quite well and water can be poured off carefully.
The process is repeatable. Dry out what you can of the water after pouring off, dissolve in alcohol and do it again. I have not yet repeated so I don't know how productive it is. The color of the extract seems slightly better and it seems a bit harder than before. Don't laugh at my color, let he who as pulled clean shit from year old boof hemp with warm alcohol cast the first stone. I have little doubt that starting with an alcohol cold wash of fresh plant material will yield a much nicer result.
My theory is that this is removing wax and chloropyll. It's not an end-all but it might be a quick way of cleaning up QWISO/QWET without cold or solvents. I think there is much room for improvement in the process. Next test is to do a second run and see if more stuff drops out. Then perhaps try with a cleaner extract from fresh material.
What is going on? I think when the extract hits the water it disperses into small particles, some go into suspension and stay, some float to the top and a few drop to the bottom. Active ingredients are mostly oily and rise to the top and rejoin. Chlorophyll and waxes stay in suspension, wax over time deposits on the bottom.
There are a lot of variables that can be played with here.