@Krative please see below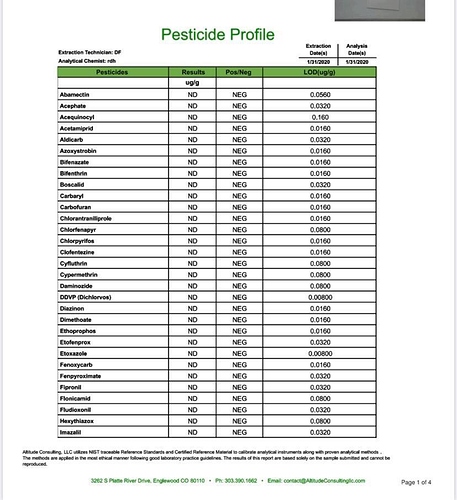 Why not just post all 4 pages?
I am sure they will they probably just havent logged in lately
Lowering the price a little bit
$225/kg, no MOQ
I've been buying this crude regularly and it turns out amazing every time I run it.
Still no update on page 2 of the pesticide? Imid? Spinosad? Etc?
What other info did you need?
They never posted a second page to the pesticide report leading me to believe it failed for something. Spinosad?
I am a buyer and am also wondering why that page hasn't been posted yet.
The pricing is a bit higher than what other vendors are offering now, but the main concern is that you excluded part of the pesticide report and have not posted it despite multiple people asking.
I suspect this is a misunderstanding or minor oversight, so be aware that it might scare buyers away regardless of the price.
You only showed test results for pesticides with names starting with A through I.
My best guess is there is many times more Spinosad in it than is allowed in cattle feed. Sometime between being told "it's natural use as much as you want" and realizing it is not approved for use on hemp, he decided that page was best left to the imagination.
I apologize and will walk back everything I said and maybe even purchase from you if I'm wrong, but have seen multiple "Verified Hemp Slangers" attempt or succeed in deceiving buyers.
I have also had multiple successful purchases from small farmers I would have found nowhere else, so I'm glad this community exists and that I found it.
If I do my due diligence and the offer seems questionable, I think publicly posting it is best for everyone's overall benefit. Plus, if you just post the rest of the pesticide report, people will see this and think of you as an honest seller.