Mind getting back to me in that DM when you have a minute?
Whats your MOQ? And price points? Thanks!
I don't have a MOQ though oz are preferred.
Text me for a faster response. 828-747-9608
I have some of this syrup and its just like HTE from fresh frozen. Sooo terpy I love it.
Might be from a different batch as I got it a while ago. Here is a pic of some I put in a glass syringe.

Pic of some I added to my THCA diamonds:

85% decarbed THCA diamonds+15% Carolina Peach and no other fillers

This Asheville Extracts Sour Space Candy live resin taste awesome. Look at those CBDA diamonds yummmmm:

Ran into Ray down at one of the local glass blowing studios and he was kind enough to let me try some of his wares.
The carolina peach is exactly what you should expect from a high quality hydrocarbon cbd extract.

I dabbed it @ roughly 625f using my focus carta v and it was very smooth and flavorful. It has the cherry flavor that is present in most high cbd extracts but also comes with a piney taste reminiscent of tahoe OG
I also tried his live sour space candy + c. Peach and holy shit the smell and taste of it was definitely unique. It was sweet over everything still having the cherry flavor on the back end when vaped.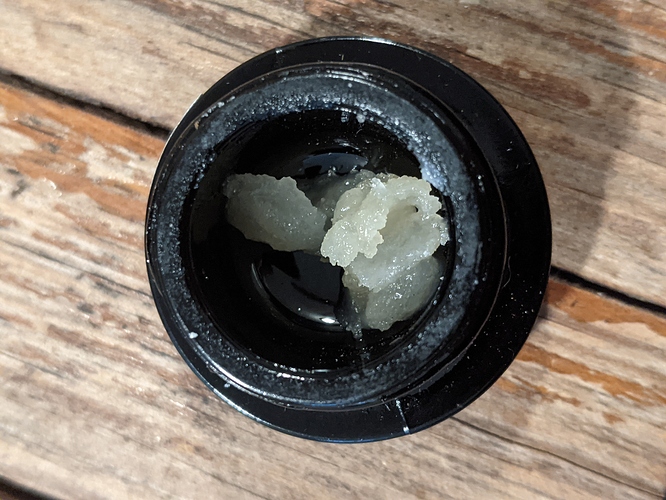 Both extracts were

and I was stoked to get full COAs with terps and residual solvents tested as well as the usual cannabinoids.
This stuff looks AMAZING!!! I wish I could afford to buy some, but I would be happy to give an awesome review if you wanted to send me a sample to try…
Bad packaging, but stupid fire terps. They stand up to canna hte with their durban poisen/jackherer ish taste and smell
They aren't expensive. DM him he can probably help yah out at whatever price point. I'd be happy to pay regular canna prices for his stuff though.
I think he said they are typically sub $20 grams
Oh, they way more than reasonably priced for what you get in my opinion… I'm just broke, but I really want to give this a try… I'll come up at some point…