Hi interested in the distillate.
Can you get back with potency and cost?
Is this a consistent provider? We are looking for a distillate maker for ongoing orders .
Thx
Hi. We are a lab. We are definitely consistent. I can definitely get you a full coa. Here is the potency.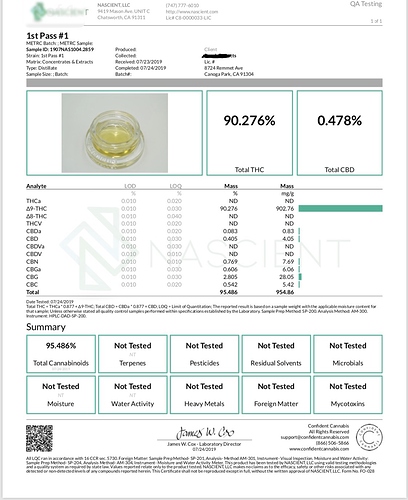 J Pender would like to link up. We are a lab as well here In Cathedral City. Send me an email address to send over some information. We make distillate and Concentrates here as well
What would your best price be for 20 to 30 liters per month.
I am based in SoCal and am trying to fill bulk orders of 2,000-5,000+ a month of all types of cannabis extraction byproduct. I have suppliers and buyers waiting. HMU 8587529770 on @whatsapp (Dom)
I'll link with you on there, have 400l on the shelf in OR
Hi mate you available on wikr or ?
Hi mate any chance you available to talk on wikr ?