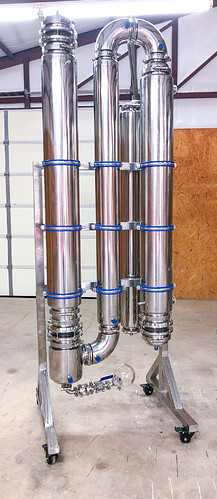 "Greetings,
Trance-Lucent Labs, LLC™ is now providing Falling Film Evaporators (FFE) assembled and tested here at our facility in the USA. We want to offer these units at a lower cost than our competitors, while still maintaining the highest quality.
The Trance-Lucent™ FFE has ethanol distillation & recovery rates of 35-45 Gallons Per Hour (GPH), depending on accessories selected. Larger sizes are being tested currently and will be available for sale immediately. Eliminate the need for clunky rotovap bottlenecks in your lab and scale up!

We have selected the highest possible quality of American manufactured heating and cooling accessories to pair with the FFE to achieve the best possible recovery rates.

Each unit is hand tested and assembled by us personally to meet our high standard of safety, efficacy, and compliance. You will receive an assembled machine that is ready to be installed. We now have a proven track record and customer references available for multiple Trance-Lucent™ FFE's that we have successfully installed in the USA.

You will receive full training to operate the unit as a turn-key distillation device, and an in-person demo trial can be arranged on every order. We offer free lifetime technical support and quality assurance, as well as a 1-year manufacturer warranty for defects.

We are not your typical "big fish" FFE manufacturer looking to charge you an arm and a leg, we are humble cannabis extraction veterans who use and understand the products we sell, with significant achievements in the extraction and cannabinoid distillation industry since 2013.

Our prices are among the very lowest in the industry; however, our 316 Stainless Steel combined with top of the line auxiliary components come together to produce a high-quality machine that is identical (if not superior) to the other more expensive FFE manufacturers on the market. Our company mission is to provide reasonable prices for the highest possible quality.
FFE PRICING - 35 GPH Model:
Trance-Lucent™ Turn-Key FFE: $95,000
Trance-Lucent™ Stand-Alone FFE: $58,000
Optional Installation Fee: $3,000
Shipping Costs: To be determined by freight carrier of your choice, shipping worldwide
(UPS, Fedex, etc.)
Shipping Origin: Oklahoma City, Oklahoma (OKC)
Important: Stand-Alone FFE requires additional auxiliary components to fully function.
(Pricing for larger FFE units will be available once our larger pilot unit is fully manufactured and tested! We will be uploading videos periodically on how to operate the machine. These videos will be open for all to view and tagged/posted for Future4200 members in a thread, on the forum)
Electrical Cooling Specifications:
3-phase
220 volts
40 amps
Electrical Pump Specifications:
Single-phase or 3-phase
220 volts
20 amps
Heating Specifications:
Propane Heating, using the largest deliverable propane tank size that is economical for you and your operation.
Physical Dimensions:
FFE: 820 lbs. – 4.2ft x 4.1ft x 8.4ft
Cooling: 5,000 lbs. – 8ft x 3.2t x 6.4ft
Heating size dimensions: Variable depending on Propane tank size, as large as possible is recommended to reduce frequency of tank refills.
If your growing company is in the market for the highest possible quality FFE, but you do not want to be price gouged by ruthless equipment manufacturers, we are grateful and happy to serve you. If you desire to deal business with an American based company and have a headache-free professional installation, we are the Trance-Lucently™ clear* choice.
Thank you,
Jack Forester
Owner, Trance-Lucent Labs™"
DM me and I can forward a zip file of pre-assembly and post assembly pics (~27 pics), I can't upload a zip file

If you have any questions, feel free to hit my line y'all! Sales Director, Lab tech, employee of the month… every month


– CS💧