Hello,
We're having 2 separate problems with our Lanphan wiped film distillation unit currently. There are big vac leaks coming from our feed and discharge pumps and our condenser heater is leaking from the reservoir (slow leak) and having problems keeping the temp where it is set if it's a more moderate temp.
Pumps- All 3 of our pumps (feed pump and both distillate and waste discharge pumps) have had issues with vac leaks.
We know for sure it is the pumps because we are able to remove them and plug the openings and when we do this the vac gets low like it is meant to.
How we have resolved this issue in the past is to pull the pumps apart and repack them with 3/16" teflon cord and slowly tighten the flange back down. The pics show the pump (all 3 pumps are the same) and where and how we packed it with the Teflon under the flange.
The problem seems to be that the packing never lasts. We keep trying to not over tighten the flange so it doesn't get squished down/impede the shaft from spinning, but we keep getting leaks. We can usually run once or twice before they need to be repacked. There has to be a better solution to this.
Uploading: IMG_20210622_093811.jpg…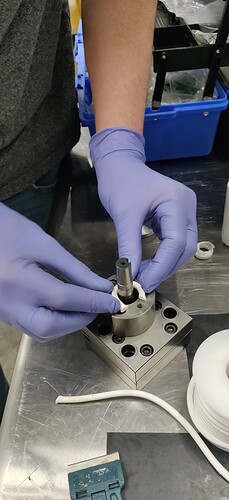 Uploading: IMG_20210622_083053__01__01.jpg…
Our condenser heater is also being a bit odd because it seems to heat to 80 fine and cool to 20 fine but it has an extremely hard time staying at 40 when it needs to be set there.
It also has a slow leak in the reservoir, which will be nearly impossible to fix since there's only a small portion of the outside we are able to remove and the rest is one piece.