The Delta8 market is complex and changeable. In the first half of last year, 2/ 3ml disposables became popular, but in the second half of the year, 3 to 5ml large capacity disposables became popular,the end-users love them and are buying them. Some well-known brands also launched 3-5gram disposable product lines, e.g., COOKIES, FLER BRAND, ELF THC, etc. In addition, end consumers also like disposables with a digital screen display, e.g. , the Funky Republic Ti7000 disposable device(for Nicotine E-liquid), but the disposables category for the cannabis industry have not been launched a disposable with digital screen display. Thus,we launched the XPRO product " the world's first 6ml disposable with a digital screen display". In addition, the biggest problems of these large capacity disposables are getting clogged and leaking. To solve these issues, we verified different heating elements and screened out the best compatible to prevent getting clogging, also we add preheat function(Clog-Free, Worry-Free). Besides,we have upgraded and optimized the structure to have better sealing to prevent leakage. We have done these things,just to bring better vaporization experience to end consumers in cannabis industry.
In addition, the environmental pollution of disposable vape products are becoming more and more serious. In order to reduce environmental pollution, XPRO was designed with the flexibility to house 3ml to 10ml of oil without altering the size or shape of the external hardware. 3ml to 10ml can be customized. (3ml/ 4ml/ 5ml/ 6ml/ 7ml/ 8ml/ 9ml/ 10ml disposable vape for delta 8/ HHC/ THC-P, THC-V etc.)This allows oil brands to expand their product range in a flash and utilize the same packaging for all available sizes.
We will attend the CHAMPS TRADE SHOWS(Our Booth No. : 16045 ) on JULY 19-22 2023, in LAS VEGAS, NEVADA. Will you be there?Let's meet there to show you our new innovative products.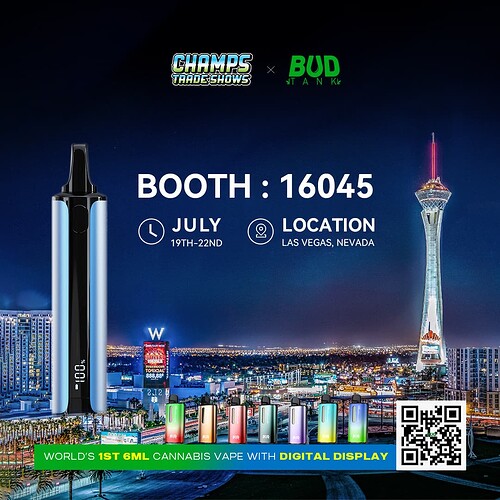 Pls DM at: promotion04@buddyvape.com Or WhatsApp: +86-180 2875 0531 , we will prepare samples for your testing.