Hello Future4200,
As some of you have seen, @pdxcanna and I have been plugging a tool we created called the Pigment Tracker. This thread is intended to be dedicated to the Pigment Tracker, the underlying spectrophotometry technology, and the application to Cannabis. I hope you enjoy and look forward to community discussions.
What is the Pigment Tracker?
The Pigment Tracker is a fluorescence spectrophotometer.
Within the Pigment Tracker are three major components. The first component (1) is an excitation light source which can illuminate samples; the second (2) is a light detector which can detect the wavelength(s) and amplitude of a Uv-Vis light source; and the third (3) is a square glass or quartz cuvette with a dilute sample. A windows PC is needed to use the free software.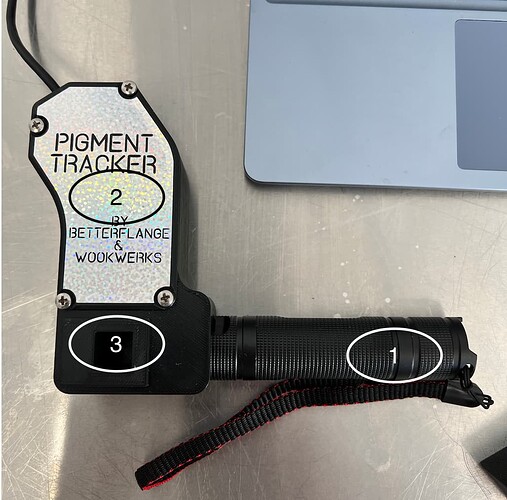 When the excitation light mixes with a sample in the cuvette, fluorescent light may be produced if there are fluorescent compounds present. The light that is produced mixes with remaining excitation light and enters the light detector. That light detector may communicate with a computer to produce a 2D "spectrum" which expresses the wavelength and amplitude of the fluorescent and excitation light.
How does the Pigment Tracker "track pigment"?
Pigment molecules are used in nature to absorb sunlight of different wavelengths and transfer the energy into plant photosystems for use in photosynthesis. Plant pigments we believe to be relevant include some water-soluble molecules but mostly fat-soluble carotenoids, xanthophylls, and chlorophyll. When these pigments are removed from the plant, they maintain their ability to absorb high energy light. However, instead of releasing the energy to a photosystem, the molecules release the energy as a lower energy photon. These photons are then collected and interpreted by the Pigment Tracker.
This is a guideline to what the pigments look like when using the Pigment Tracker in a plant oil extraction situation.


Shown below, different quality oils can be tested to observe the specific source of pigment contamination.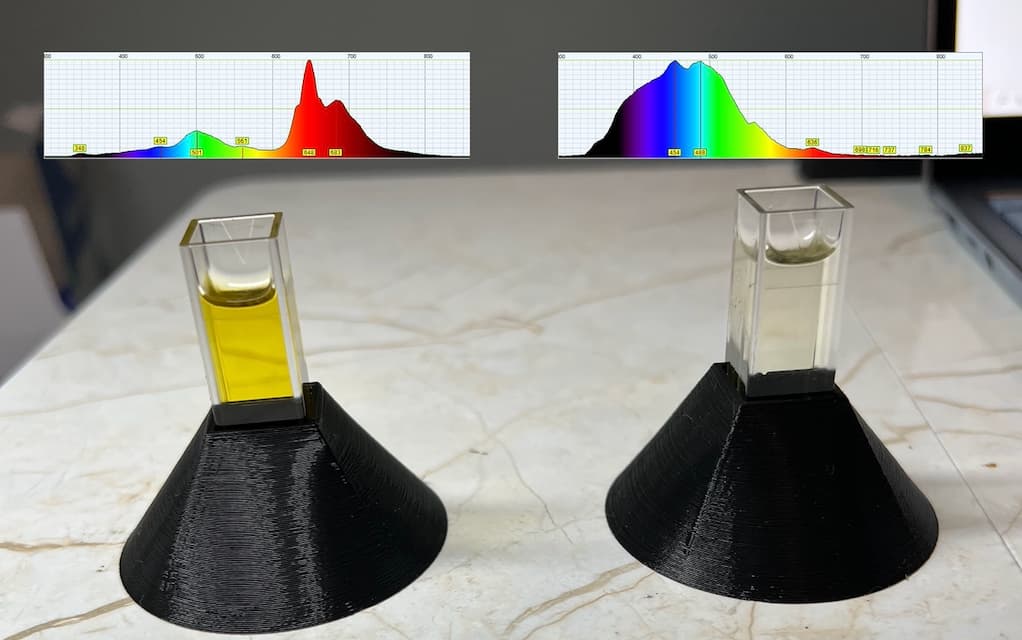 This displays a mixture of pigments including chlorophyll on the left and displays a small amount of carotenoids suspended in very clear oil on the right. By saving the 2D spectrum we can collect and save data which was previously entirely qualitative.
In the cannabis industry many people want to use fluorescent spectrometers to detect cannabinoids. Unfortunately the Pigment Tracker does not detect cannabinoids. Until cannabinoids are exposed to oxygen for extended periods or heated, they do not produce a fluorescent light. This is a paper which addresses the process to create a fluorescent response in non-fluorescent cannabinoids https://academic.oup.com/jpp/article-abstract/27/2/135/6196033?redirectedFrom=PDF
Because no one heat is treating their samples in the way described we do not recommend using the pigment tracker (or any fluorescent spectrophotometer) to detect desirable cannabinoids. The realization that degrading THC creates a fluorescent compound may be useful to test for degradation in very pure samples.
Next Post: how to use the pigment tracker for cannabis processing