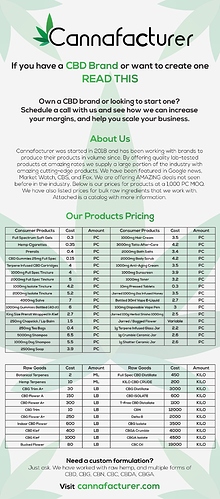 Appreciate the transparency and listing pricing. Setting a good precedent.
Hey can you send me over your contact information?
Book marked for future comparison.
Saw you mention on another thread that you can produce delta 8 gummies for a low price, if you have stock please send me a message.
New deals and prices available
Delta 8 products ready for retail
New soft gels available in CBD and CBN
Hey there! Touching base to see if you had any questions regarding our product listing. Please let me know if you have any questions!
Hemp product sales belong in the following category;
I thought this was the hemp outlet?
Not GMP certified yet, but working with FOCUS to have all certifications and good manufacturing processes requirements within the next 60 days.
They send their orders through to https://fullbodyzen.com/ and then leave you ghosted if their is a problem. They're just middle manning it seems.
Hi Drew, how were you trying to contact customer service? I'd love to help!
Thank you for offering help, I appreciate the offer but I have it solved and taken care of through full body zen support team. I was in contact was in contact with the CEO Jack Jay (Jack@cannafacturer.com) for an order then was ignored for about a week. I fixed the issue after 3 days through full body zen.
That is wonderful news! I am glad we were able to resolve the issues, and hopefully mend the relationship! The offer still stands if you have any further questions, please contact me directly at monica@fullbodyzen.com