Fuck that I'll single compound my Passat with 90mm & dig on some tt
9sec 1/4mi with AC then pick up your girl for dinner. The only thing that would be close is an RS3.
Pimpin or fast…
I delivered a rolls Royce's that had a 40k starlite headliner. And 10k x2 umbrellas. And a 30k stainless steel (raw) hood.
Lol
Edit
Dont get me started on the numerous Bentley Continental GT's I delivered. Huge cost, and power to back (v12 supercharged). 295k
Huracan is so dope! But the pot holes up here would smash it…
cant yu just get a sataIII cord and extract all the files like that …i had to do that recently to get some old files from an hd of an laptop
you talking about the new stingray with the mid engine? shit is sexy as fuck!
Have you seen the convertible? They are also coming out with a flat plane crank C8 R.
the hard top convertibles? dude yeah sexy as fuck man lot of haters from the hardcore vette lovers but man i think that shit looks too dope!
Yeah, they have two models the manual vert and the auto vert. Then they have the C8 R.
They all look nice. It looks like the c8 has Lamborghini tail lights. The c8r looks insane just like the c6r and c7r.
The like the blue interior. They had a release party down here in Florida.
It's a lot of car for 70-85k
yeah id say so price aint too ridic for what your getting thats forsure(not that i could afford one right now) but yeah they do have that lambo look to them from behind
They definitely made it look exotic, finally. I imagine it should run with a TT kit on it, 0-60 times are good stock. The videos I saw shows them dropping the top on the move which would be sweet.
maybe i can pull up in a 2020 model in 2030

I think the top can come off in 15 seconds while driving up to 30mph
Cool thing about the coupe is it's a targa top as well
Yeah, they both verts but the auto vert looks mo beta with the top down.



For my budget oriented self I had plans to either build a widebody c6 and build a twin turbo setup but the problem is the rear end and transmissions. Could go with a custom solid rear and a very expensive tranny. Then there's the early gen dodge viper gts I've always had a crush on. Those are sweet but Chevy had to go and come out with this mid engine c8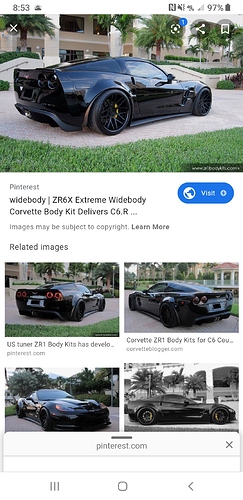 They are making vettes more like Ferrari and lamb's vs the old styles
I don't know if I'd say they are making them "like" Ferraris and other high end mid engine cars just because its mid engine but it's clear the Vette is now going after a higher tier of sports car enthusiast. The new mid engine design really shakes things up in this price to performance ratio. I can now envision myself driving around a 1500hp mid engine c8 for about 70k. The only other way to get into something that cheap was to build a kit car like a Factory Five GTM with a donor Vette. 50-60k for a used c8 in a few years 10-20k for a custom built tt setup and accessories lol.
Body styling only.
Just seen a preproduction vette cruising around last weekend. It's very apparent they are heading into the more stealth (sharp lines) vs smooth flowing curved lines.
One good thing living near the GM tech center, I see all kinds of preproduction cars driving around.
And the "cow" wrap does zero to fool my eyes. But it fools cameras.
I think it ain't half bad especially when a new 4 door ram with a Cummings is 70k also