Vapes play a big role in taste. Most vape systems are set way too hot. Makes the oil taste bad.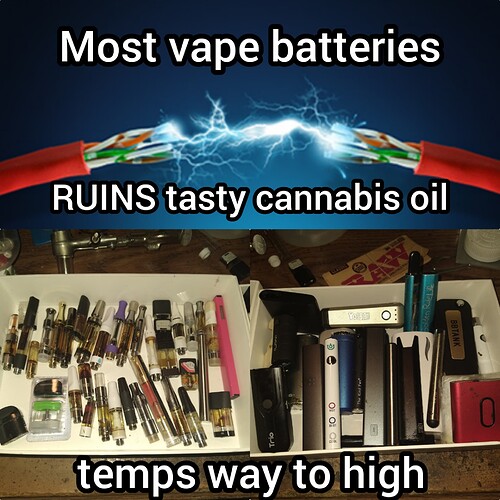 Reason is b/c manufacturers are coming from a nicotine juice background/mindset. They assume they only way to achieve high vapor production is at high temps…INCORRECT.
It's about VISCOSITY. Also incorporating real CDT or HDT helps to achieve high vapor production at much lower temps. (Thins viscosity and creates much bigger thicker clouds)
OVERSTAND: ONE tasty terpy live resin vape…10 different batteries. 10 different tastes !!! Dab the same oil and it tastes good, off the vape tastes like poop.
Manufacturers try to create "new" different systems but it's all the same they just look different. "This is all ceramic, special high end dentist ceramic"


Still tastes like electricity or crap to me.
These manufacturers keep making them b/c big camps keep buying them. TELL THEM !!! how can they know IF y'all keep buying em?
There's many variables…but buyers just want the cheapest vapes possible. It's one of the reasons most vapes suck so bad.
Idk we need to start telling the manufacturers to change this. Keep the intake hole sizes the same…1.8-2.0mm just lower the temps.
ALSO why don't they ever list the specs? They don't advertise the volts, ohms and watts. Why? Stops us from learning and making them better.
Pardon the rant…just figured by now we would have fixed this issue.