Gonna need a better photo…
looks kinda like mites which are bad but yeah u need some better pics. to hard to tell
I was thinking aphid but yeah without a better photo hard to determine.
Looks a little too big to be an Aphid. In lieue of a better photo, which would obviously be preferred, can you describe it in some detail as well as any damage on the plants that you are contributing to this pest?
Plenty of damage going on in room from nutrient burn due to reused coco. Not really contributing any damage to it just saw it on a few plants that had nutrient burn (I thought)
It looks like the borg. Two spotted mites. Can you hear my voice trembling
edit: Nevermind, I suck at ID'ing pests
Its not mites or aphids that's for sure. I'm stumped on this one.
Edit : give us a close up on the leaves that brown bug on top may be predator to what is attacking your plant. I THINK i see some white on the right leaf(thrips or mite damage) show us the underside of your leaves to identify mites. Thrips love to hang on stems
Looks like the nymphal stage of an insidious flower bug.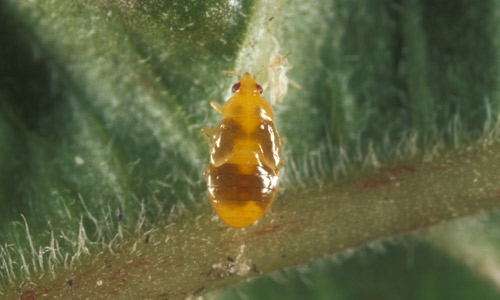 There might be a TSSM to the left of the main insect in the picture, in which case it might be there to eat eggs, but its hard to tell and could just be a piece of something.
Orius Insidiosus is a beneficial insect but unless you released them yourself it's odd to see one.
Orius insidiosus, common name the insidious flower bug, is a species of minute pirate bug,
Released some pirate bugs 7 months ago, guess they are still sticking around
I would say that's it exactly! Looks like they've not only stuck around but have reproduced, congratulations.
Damn dude you must grow some piff to keep the good ones around!
Caterpillar
Keep feeding it and find out moth or butterfly
I'd be willing to bet that's a beet armyworm (Spodoptera exigua), but your local ag extension entomologist would be the one to hit up for a positive ID. Get out the Dipel (old trade name for Bacillus thuriegiensis)!
Lol I try to keep plenty of pest around to keep them busy. My favorite predator was a flying metallic looking preying mantis. He wiped out a cricket invasion this summer, savage
Could be a cabbage looper
I knew it was a predator. Never run into pests that big lol. I want to post the ig account of a entomologist who always helps me identify but I don't want his dms to be full of people like me

.
Honestly predators staying around is not a good sign unless you brought another food source In. It means it kept it at bay but it never got rid of the infestation.
Edit @Concentrated_humbold uhhh could I get that pack of seeds back bro
Yea thats a bad one brother. Those little bastards are what give us the dead brown rot from the inside. Had a few coalas this year with a few of those guys in. They destroy plants like nothing so if you ever see one of those and are thinking of being a nice human and showing mercy… don't… just merk em all they will ruin so much if they stay alive