Broad Spec Distilalte starting at 6k OBO.
Ready to ship,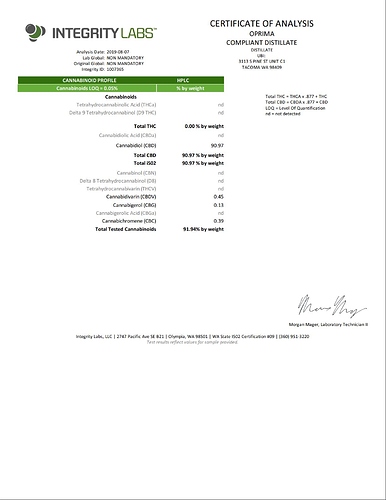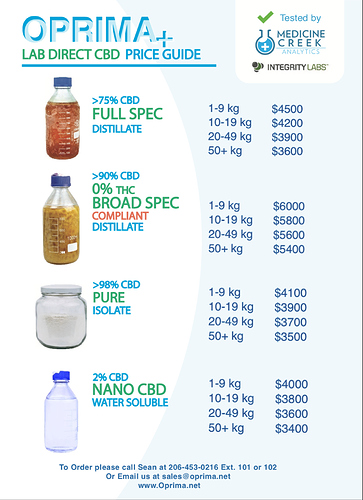 For all other COAs,
Click Here
Distillate can not be full spectrum. You need to read up on your nomenclature
When you say full spec distillate are you saying it's distillate with above .3% thc? Either way your understanding of full vs broad spectrum is off. I'd be happy to break it down for y'all
Also soluable with only 2% content? Should be at least 10%. 2% is essentially non existent…
With 2%. You could essentially make 2000 bottles of CBD water/beverage at 10mg.
Which goes for about 4-5 bucks on the market

We can dabble over terms all day, we understand your point. What the market wants? That's a different story. Full Spectrum Distillate is nice amber/golden oil in a tincture as far as the market is concerned.
We wouldn't want to use material like crude in an end user product and we advise against it to our customers. No one likes nasty looking and tasting stuff. Sure, the enthusiasts would love it, but that's a different market. A much much smaller one when it comes to CBD.
A simple google search (what the general market would do) would tell you:
"Broad spectrum CBD products contain an array of cannabinoids and terpenes but zero THC. Think of Broad Spectrum CBD as Full Spectrum without the THC. … Broad Spectrum CBD is an excellent choice for individuals that can't have any traces of THC in their system, whether for medical, personal or legal reasons."
"The contents of the refined extract are what determines if the CBD extract is full spectrum, broad spectrum, or CBD isolate."
But yes we agree that there is a "truer full spectrum" i.e. crude.
We appreciate the passion.
" terms " are going to be the new " strain name " game for 2020. someone needs to make a standard and regulate control this stuff …
It's just conforming to the public. Full spectrum mimics the plants cannabanoid. Ask any professional in the industry and they'll chuckle when you say your distillate is full spectrum. I guess I understand marketing to the masses.
Can I ask why your water soluable is such low potency? Is that the max your capabilities can create? Or that was a monetary decision?
i feel like we have such a big loss between the deliberate terms chosen by science and chemistry and what "the general masses" can understand. Maybe this forum should make the standard so we can actually educated the masses instead of just peddling to them
I made a water soluble CBD using a sugar based fatty acid and it only came out to 3% CBD content. Sometimes that's what it is. Highest concentration I've ever made was 37% CBD.
This works best for us and our customers. Do you need more than 2%? If you have more questions, you're more than welcome to call us at 206-453-0216 ext. 101. and we'd be happy to fill your needs.
Less than 1% minors. Might as well by isolate.
Just to keep things clear, we would love to aid our customers to fully understand Hemp and it's extracts. We appreciate the support towards standards and regulations. What most of our customers are concerned about is quality product: Quality, compliance, and direct CBD straight from a lab that would fill needs and further their endeavors.