Boston Freedom Rally is coming around again this weekend on Saturday.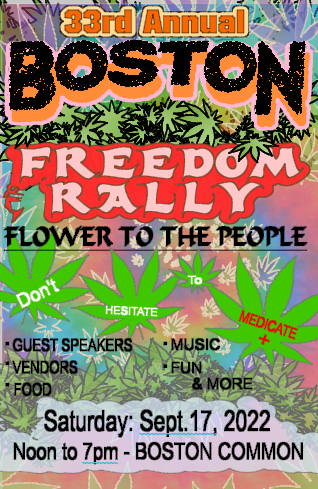 Do me a favor and if you see Dave Tree tell him he's a loudmouth
I might head down that way, would love to sess with other hash heads ….
I'm close, but I hate driving to Boston. Lol.
It was crazy. There was a fuck load of people this year. What's crazy is they were selling shrooms as big as my forarm.
But there was cops everywhere and it didn't feel chill buying them. But it's definitely the next big thing.
A few religious people argued with teenagers which was funny to watch cause religious people are just as stubborn as teenagers who aren't gonna listen to their version of reason so… It was entertaining for a few mins.
A lot of weed and edibles that we never usually see or I never see. I got to try my first nerds rope that was 600mg and had a little bit of infused banana pudding.
Wanted to buy a knock off infused Wonka bar so badly but it was 20 a bar.
10$ for thr nerds rope was the best purchase
My girl went with me and we both ate edibles and smoked some incredibly crafted j's.
Other than that, same old shit
I think I only sprayed like 150 mg on there homie
It didn't do much tbh. Dude I think you did only give me 150mg. Bruh give me my tree fitty.
Was the 'THE WORLD IS ENDING' sandwich board guy there? I worked in downtown crossing for years and he was always telling people in the same area we're all gonna die. I'd agree with him. He never knew what to say to that.
Had to Google what that was.
No I didn't see him.
You cLeArLy have not been through enough end-of-the-world events!